Introduction
RUDN Enclave Rawalpindi is a cutting-edge residential society that thrives at offering a luxurious lifestyle. It is a precious gem in the process of polishing and refining, ready to entice its eager investors.
RUDN Enclave is the best investment you can make because it will pay off for the rest of your life. So, let's look at why you should invest in RUDN Enclave Rawalpindi.
Exceptional Location
RUDN Enclave Rawalpindi is easily accessible in every way. It's on Adiala Road in Rawalpindi, near Bahria Town Phase-8, the M-2 Islamabad-Lahore Motorway, and the N-5 National Highway.
The society would also be reached via the newly proposed Rawalpindi Ring Road, which gives a direct link to the New Islamabad International  Airport.
RUDN Enclave Accessibility
National Highway, N5, Grand Trunk Road is around 25 minutes away
Chakri Road is 29 minutes away
Phase 8 Bahria Town, Rawalpindi is 31 minutes away
Saddar, Rawalpindi is 27 minutes away
Rawat Chakbeli Road is approximately 24 minutes away
Islamabad farm houses are 9 minutes away
Developers
The RUDN Enclave society built by RMRSCO Pvt. Ltd, a group of experienced builders, project managers, and skilled experts. This group aspires to take on some of Pakistan's most well-known structural design and development projects.  RUDN Enclave's main consultant is NESPAK. It's a well-known Federal agency and Engineering consulting firm that was established in 1973 in Asia and Africa.  UPDL Gulberg Islamabad's most important development partner. The development of the RUDN Enclave began in November 2021, according to the RUDN Enclave administration.
A huge number of residential real estate investors have been attracted to the RUDN Enclave. RUDN Enclave's development teams have already submitted their request for a NOC from the Rawalpindi Development Authority (RDA), which the developers will get as soon as feasible.
Easy Installment Plans
For realtors, investors and the developers, RUDN Enclave's  affordable installment plans are the most alluring component.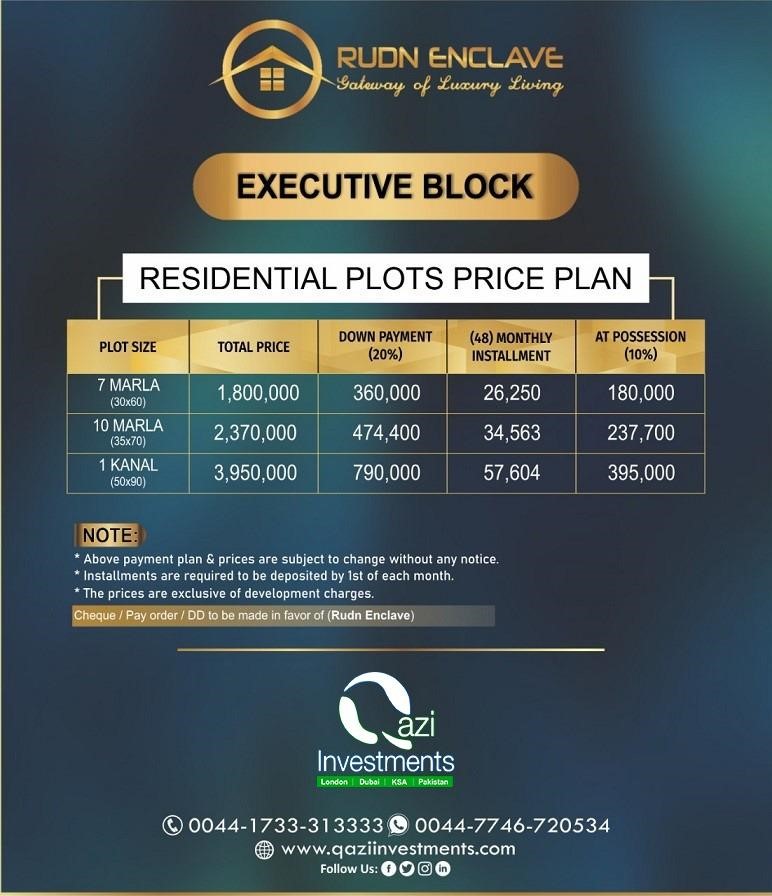 Amenities and Services
Theme parks
Water filtration plant
Transportation facility
Uninterrupted provision of civil utilities
Commercial Area
Educational Institutes
Mosque
Graveyard
Play grounds
5-star hotels & restaurant
Grocery/shopping center/Markets/Malls/Marts
Peaceful/ healthy/secure environment
Gated community with security gates, surveillance systems, CCTV Cameras & security guards
Close to the main locations & other societies.
Easy and quick accessibility
Wide and well planned carpeted main boulevard
Well planned drainage & waste disposal systems
Green, smart and sustainable housing society
Fire extinguishing mechanism
Free Wi-Fi zones
Load shedding free zone
24 hours gas/electricity facility
Ring Road Rawalpindi and RUDN Enclave
Rawalpindi Ring Road is the most promising element of RUDN Enclave. Half of the RUDN Enclave's area bisects the Rawalpindi Ring Road. The development of RUDN Enclave has begun, with approximately 30% completion under the supervision of RMRSCO Pvt. Ltd, NESPAK, and (UPDL). Prime Minister Imran Khan will inaugurate the Rawalpindi Ring Road on December 25, 2021. (InshAllah)
RUDN Enclave is the ideal investment plan for a bright future, and for those who have already invested in this Housing project, this is extremely excellent news, as your investment will yield a profit in the future. The newly planned Rawalpindi Ring Road is next to RUDN Enclave's Gate 1. The RUDN Enclave Rawalpindi is near the Lahore Islamabad Motorway M2, the CPEC Route, and the New Islamabad International Airport on Adiala Road in Rawalpindi. Furthermore, the value of RUDN Enclave will rise once the Rawalpindi Ring Road is completed.
The primary advantage of the Rawalpindi Ring Road area is that commercial plots, residential plots, and farmhouses that were previously booked at lower prices are now growing in price. Commercial plots are 4, 8 marlas and 1 kanal in size, whereas residential plots are 5,7,10 marlas and 1 kanal in size, and farmhouses are 4 and 8 kanals in size. The plots were initially booked for 2.2 million Rupees with a 20% down payment a year ago. Now, on average, the plots of a general category will yield a profit of 500,000-700,000 Rupees. Farmhouses generate an average profit of 2.5 million Rupees
Affordability
The investment plans are relatively affordable because the residential property project is still in the early phases of construction. The main purpose in developing this community was to provide a comfortable and peaceful living at an affordable price. This real estate project has attracted local and foreign investors due to its affordability, since it is a rare chance to invest in residential property in such a great location and at such affordable prices.
Scenic Landscapes
RUDN Enclave is surrounded by the beautiful serene landscapes.The Swan River, Khasala Dam, and Java Dam are all located near the RUDN Enclave. The Khasala Dam is a natural water body located in close proximity to Rawalpindi's RUDN Enclave. The developers have a formal lease on the Khasala Dam because its three ends are connected to the housing society. Alongside the Khasala Dam, they propose to construct a skywalk, a water theme park, food courts, and leisure areas. The Jawa Dam is also close to the society as well. On one side, the dam is under Force control. Jet skiing on the Jawa Dam is one amongst several water sports available. Residents of RUDN Enclave may enjoy the stunning sights with the food courts that the housing project's developers are planning to construct there. In addition, there will be a yacht area, cottages, and boating amenities which enhance the value of your living standard.
Conclusion
Qazi Investments presented you with all of the strong arguments for reconsidering your stance and considering investing in this community. These considerations are adequate for all those who predict a high-yield, affluent future. RUDN Enclave in Rawalpindi is a true picture of futuristic life. It is the ideal investment plan for a bright future, and for those who have already invested in RUDN Enclave, this is an extremely excellent venture, as your investment will yield a profit in the future.