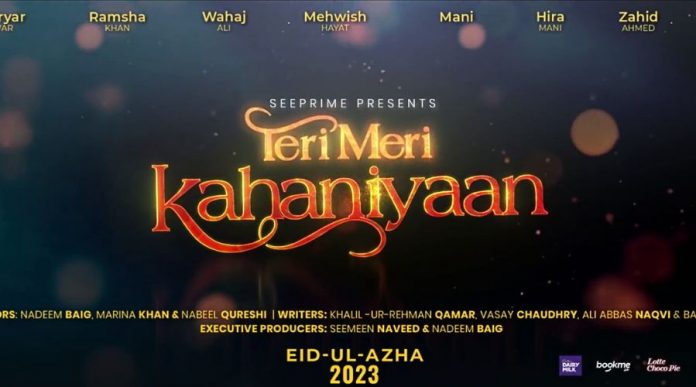 Prepare to be dazzled by the upcoming Pakistani cinematic extravaganza, Teri Meri Kahaniyaan! This film is set to redefine the boundaries of star power with its jaw-dropping ensemble cast, pulling together a constellation of international talent onto a single silver screen. Hold onto your seats as SeePrime's YouTube channel unleashes the electrifying cast announcement video, leaving you in awe of the unprecedented star-studded lineup. Teri Meri Kahaniyaan is about to make history in the world of Pakistani cinema, leaving no doubt that it's a movie event like no other!
Teri Meri Kahaniyaan, set to release on Eid-ul-Adha by Distribution Club (IMGC), represents a remarkable collaboration among esteemed Pakistani storytellers. Renowned names like Khalil-ur-Rehman Qamar (Pyare Afzal, Mere Paas Tum Ho, Punjab Nahi Jaongi, London Nahi Jaonga), Vasay Chaudhry (Jawani Phir Nahi Ani 1 & 2, Main Shahid Afridi Hoon), Ali Abbas Naqvi, and Basit Naqvi (Lal Kabootar) have joined forces to bring their creative prowess to this project.
The film brings together the directorial vision of accomplished filmmakers Nabeel Qureshi (Na Maloom Afrad 1 & 2, Actor in Law, and Quaid e Azam Zindabad), Nadeem Baig (Jawani Phir Nahi Ani 1 & 2, Punjabi Nahi Jaongi, Loondon Nahi Jaonga), and marks the silver screen directorial debut of veteran actress, director, and producer Marina Khan. Marina Khan, known for her many successful TV serials, adds her expertise to this highly anticipated project.
Movie Cast:
Mehwish Hayat, a prolific figure in the industry, is set to grace the screen once again in her latest project alongside the esteemed director Nadeem Baig. Joining her in this endeavor is the dashing Wahaj Ali, who has made quite a name for himself with his latest hit drama serial "Mujhe Pyar Huwa Tha" and "Tere Bin."
Adding to the stellar cast is industry icon Zahid Ahmed, portraying a brooding character, while celebrated model and actress Amna Ilyas brings her charm and talent to the screen.
Audiences will also be treated to the fresh on-screen pairing of Sheheryar Munawar and Ramsha Khan, offering a delightful chemistry that has never been witnessed before.

Lastly, the beloved husband-wife duo, Hira and Mani, share the screen together for the very first time, promising a delightful and captivating performance.
Here, Have a look at the Seeprime's official cast reveal:
Seemeen Naveed, the CEO of SeePrime, expressed her enthusiasm, stating, "Bringing together this high-stakes project has been an incredibly thrilling experience. The response from the public has been truly heartening, and we are equally excited. The anticipation is nearly tangible, and this movie will undoubtedly revolutionize the silver screen."
SeePrime, a creative venture with three years of experience, is dedicated to presenting an alternative narrative for the digitally native audience, offering a fresh perspective and engaging storytelling.
SeePrime has established itself as a prominent platform for producing original, high-budget short films featuring renowned Pakistani actors. The likes of Mahira Khan, Sheheryar Munawar, Bushra Ansari, Afan Waheed, Faisal Qureshi, Ushna Shah, and many others have graced these captivating films, all of which can be enjoyed on the SeePrime YouTube channel.
In the upcoming days, movie enthusiasts can look forward to purchasing tickets online at bookme.pk. With Eid-ul-Adha right around the corner, cinema lovers can anticipate a star-studded holiday season like never before. The silver screen is set to witness some of its most remarkable days yet, filled with unforgettable cinematic experiences.