In today's busy life, almost no one has enough time to physically visit shopping malls and markets and buy groceries for their homes or clothes for themselves and their family. Since the massive increase in the eCommerce business, everyone around the globe, including Pakistan now mainly relies on online shopping websites and apps. Everything you need in daily life, clothes, shoes, grocery, furniture, utensils, and even medicines are now available with just one click.
In Pakistan, almost every big company is now shifting their business towards eCommerce due to the massive demand from customers. In this article, we will look into some of the most popular and successful online shopping websites that are currently available in Pakistan in 2023.
1. Daraz
If you are planning to purchase something online for yourself or for your home, the first name that will come into your mind is Daraz.pk, the reason is that the website is offering almost everything that you can think of, Smartphones, clothes, gadgets, shoes, groceries, medicine, beauty products, electronic devices, home appliances, accessories, and even automotive. The website has Millions of products available on their website in bulk quantity and it is the most trusted website for online shopping in Pakistan. So, if you are thinking that you will order something and they will send you some fake products or they will misplace it, you can rest assured, Daraz is the most secure and authentic online shopping website in the country. Daraz also offers many exclusive sales and deals on its website, Daraz 11.11 is one of them and it is also the biggest sale of the year in Pakistan.
2. Telemart: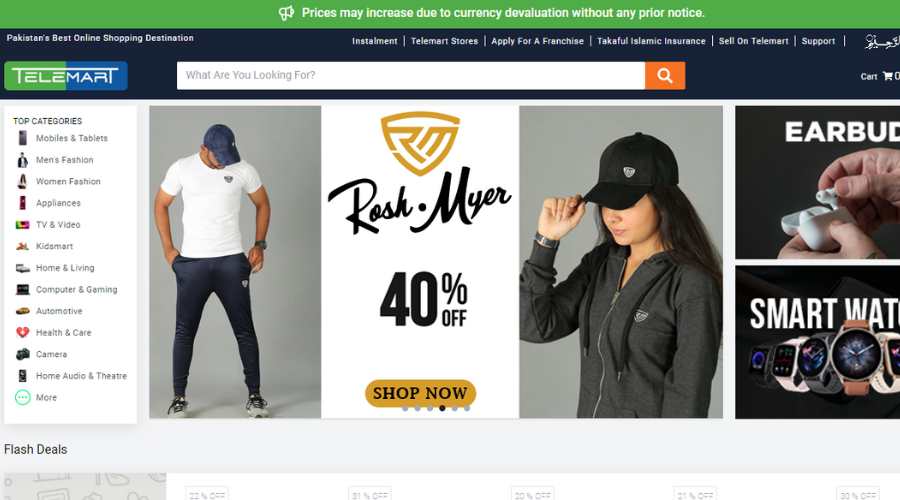 Telemart is another big name for secure online shopping with many exclusive deals and sales available on the website. Telemart has been in the market for over three decades now and is famous for offering the latest Mobile phones, electronics, gadgets, cameras, house appliances, and automotive at a very reasonable price. Now, the site is also offering beauty products, and clothing for men, women, and kids as well.
Shophive:
Shophive is heaven for tech lovers, the website has a large variety of the latest smartphones including the latest iPhone 14s and the latest apple watches as well. The site has been running in Pakistan since 2006 and has been providing premium quality tech gadgets, electronic devices, home appliances, and accessories. Shophive have now expanded its business and is now they are also dealing with network products, cameras, audio devices, tablets, PCs, video games, and much more.
4. CyberMart
CyberMart is a fast-growing online shopping website available in Pakistan which is providing a vast variety of products to its customers. With their amazing deals and discounts, it becomes very difficult for customers to turn their back on them. The platform also offers very reasonable prices and its delivery and return policies are truly commendable. We would highly recommend you to visit them at least once if you haven't tried CyberMart yet.
5. Symbios:
Symbios.pk is known as the pioneer in online shopping when it comes to buying tech and gadget devices online in Pakistan. The platforms specialize in laptops, PC, Tablets, Cameras, Smartphones, Smartwatches, Games and much more. The site has now started dealing with beauty products and fitness products as well. Symbios has been working in Pakistan since 2006 and are still it's growing rapidly with each passing day. They also offer many exclusive deals and sales like Daraz 11.11.