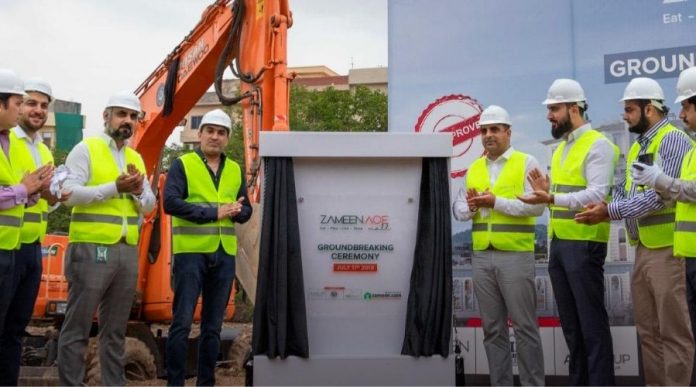 A joint venture between Zameen Developments, ACE Group, and MIH Group, construction work of Zameen's first mega project, Zameen Ace Mall has begun.
On the 11th of July, 2019, Zameen.com laid the foundation of yet another milestone: Zameen Ace Mall.
According to Project Director Fahad Arif Khwaja, the developers began the construction work on the project following the government's permission with regard to the resumption of construction activity in the country.
"We have designed Zameen Ace Mall as a modern apartment complex that stands out within its distinguished neighborhood. The project is being executed with meticulous attention to detail and all measures are being taken to ensure its completion within the set timeframe. Moreover, we are committed to following international development standards and won't compromise on construction quality," he said.
Zameen Ace Mall Update:

Zameen Developments Project Management team has mobilized on the project. Site survey completed by DHA Islamabad team. Site clearing & grubbing activity initiated. Construction to commence soon.

For details:
Call 051-111-888-888https://t.co/ljeUMag1Pj pic.twitter.com/jw4DkV6UCA

— Zameen Developments (@ZameenDevs) July 16, 2020
Project Highlights:
Being in the most prime location of DHA in Islamabad Zameen Ace mall will have a lots of benefits.
• Excellent avenue for investment
• He also revealed that the CDA has provided its approval to the Islamabad Expressway signal-free corridor project, which, following its completion, would provide convenient access to Zameen Ace Mall.
• In the immediate vicinity of Askari-I & II, Giga Mall, and Jacaranda Club
• 1 minute from GT Road
"Ace Group's partnership with Zameen Developments is a strategic endeavour aimed at maximizing the strengths of both companies," stated Ace Group's CEO Usman Zafar Cheema. "Pakistan is lagging behind in the region in the development of multipurpose buildings and this partnership aims to take this challenge head-on with well-planned residential and commercial projects," he added.
Cheema also said four more projects were in the pipeline for Zameen Developments.