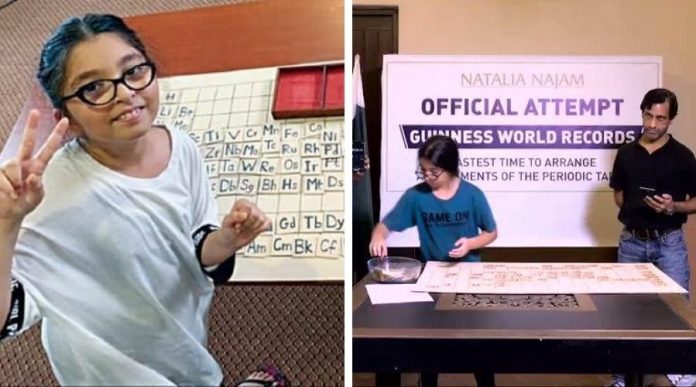 Breaking the record of the former champion, an Indian professor, Nine-year old Pakistani girl, Natalia Najam has broken the Guinness World Record for the fastest arrangement of the Periodic Table of Elements.
Hailing from Lahore, Natalia Najam is a science enthusiast who entered the competition achieved the Guinness World Records title after arranging all elements of the periodic chart in just 2 minutes and 42 seconds on July 18, 2020.
She broke Meenakshi Agarwal's record by a margin of 7 seconds.
Welldone Natalia Najam 👏👏 https://t.co/1MjenPTITe

— Mobeen (@Mobeen54010648) August 3, 2020
Natalia exclaimed with utter joy after completing the challenge and the realization hitting that she has won and will be taking home the record for herself.
Natalia aims pursue careers in science, technology, engineering and math (STEM). Her father Hasan Najam, claims that Natalia has been home schooled and has not received any formal schooling.
Social Media is calling Natalia Najam 'Pakistan's young scientist' as the people of Pakistan are very proud of the marvelous achievement by the youngling.
Pakistan has achieved many accolades and some of the noteworthy achievements in setting Guinness World Record are Largest volunteer ambulance service in the world by Edhi Foundation with 500 ambulances across the country.
Arfa Abdul Karim Randhawa became famous in 2004 for earning the honour of the youngest Microsoft certified professional (MCP) at the age of nine, though the country mourned her loss as she passed away in 2012. In 45.48 seconds Meher Gul took to set a new world record for Pakistan.