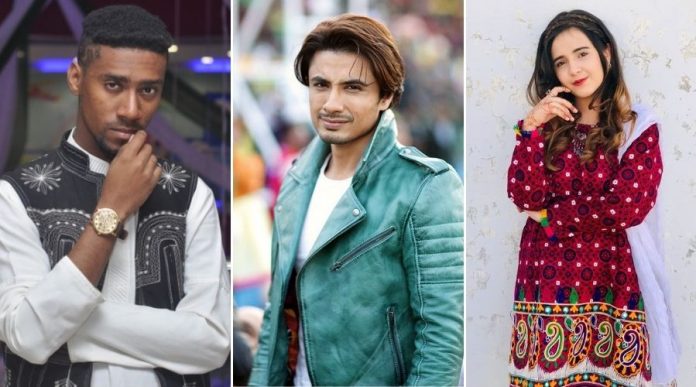 Our favorite singer-turned-actor, Ali Zafar is all set to release another hit song with the renowned 14-year-old singing sensation Urooj Fatima, who made her singing debut last year with the classical Balochi song 'Laila-o-Laila' which was also alongside the one and only 'Ali Zafar' and Abid Brohi.
Those who are not quite familiar with the name, Brohi is a 21-year-old rapper based in Sibi, Balochistan.
Instead of rapping about romance or mafia, Brohi raps is about his own country and how the people should give back to Pakistan. "I feel comfortable with rapping in Punjabi and Sindhi, but I do want to learn English as well," he says. Some of his popular songs includes The Sibbi Song, Kaam Dou and Ali Mola.
Ali Zafar and Uroof Fatima's duet 'Laila-o-Laila' was released on October 11 last year and has crossed over 25 Million views on YouTube. The song was directed by Umer Khan and produced by Ali Zafar himself.
Recently, an BTS video of Ali Zafar has been posted on Instagram in which we can see him grooving wearing a traditional 'Ajrak' and we assume that we will be seeing Ali Zafar showing-off his classical Sindhi Dance moves in his upcoming music video.
In an interview, Urooj revealed that performing the people's all time favorite Balochi folk song was like a dream come true.
Moreover, she also expressed that she is a huge fan of Ali Zafar and always had the desire to work with him someday…
"Ali Zafar is a very humble human being and it is an great honour working with him," she said.
Urooj also told some fun facts about how Ali Zafar struggled while getting the hang of the song as it was quite a new experience for him to perform a balochi song. However, she did not had to try so hard as she already knew the song.
Urooj also said that "It was the biggest moment of my life, when Ali Zafar posted on Twitter that he feels honored after performing with me,"