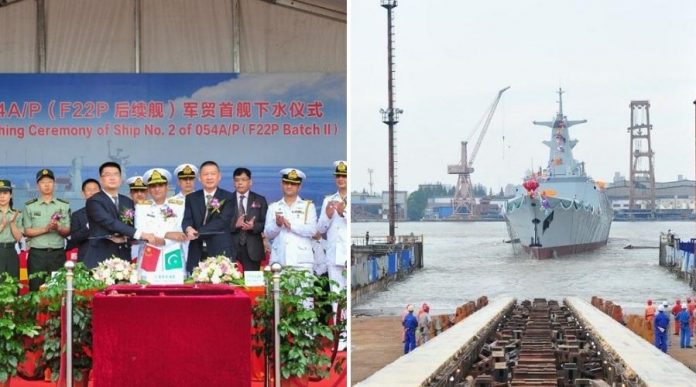 The launching ceremony of the first of the four ships of Type-054 Class Frigate developed for the Pakistan Navy by China was organized at the Hudong Zhonghua Shipyard (HZS), Shanghai, China.
"The launching event has been marked as a major milestone in the construction of state-of-the-art Frigate for Pakistan Navy. These ships will significantly contribute in maintaining peace and security in our area of responsibility," Pakistan Navy said.
The launch ceremony for the first of four Type-054 class frigate, attended by top officials.
Once constructed, the ships will be one of the largest and technologically advanced surface platforms of the Pakistan Navy fleet, boosting its capability to respond to future challenges, the service said.
Reported estimates of the cost of each ship are more than $350 million each.
According to the official statement issued by Director General Public Relations (Navy), Chief Naval Overseer for China, Commodore Azfar Humayun, graced the launch event as the Chief Guest. Chairman China Shipbuilding Trading Company (CSTC), Li Hongtao, and officials from the Pakistan Navy, HZS, and CSTC also attended the launch event.
The Type 054A is a multi-role frigate and is recognized as the backbone of the People's Liberation Army Navy (PLAN) fleet of surface combatants with 30 vessels in commission. They have a length of 134 meters, a beam of 16 meters for a displacement of 4,000 tons. They have a crew complement of 165 sailors and are fitted with:
• an H/PJ-26 76mm main gun
• 8 C803 anti-ship missiles
• 32x VLS cells for HQ-16 surface to air missiles
• 2x Type 730 30mm CIWS
• 2x Triple Torpedo launchers
According to the Pakistan Navy, the Type-054 A/P ships are state of the art frigates equipped with the modern surface, subsurface and anti-air weapons and sensors.
Pakistan-China defense ties turn a new chapter with the launch of the first ship of Type-054 class frigate.
Timely completion of the first Type-054 class frigate ship despite the Coronavirus pandemic was appreciated by Commodore Azfar Humayun as commitment demonstrated by the HZC and support extended by CSTC.