The wait for one of the most anticipating movie is over, Dobara Phir Se movie is out and we bet this movie is going to bring something bigger and better for the Pakistani cinema.
The premier of Dobara Phir Se held at Dubai gained a lot of limelight and the cast of the film was present along with the director. The film is positioned as a romantic drama that will change the landscape of Pakistani cinema. The film focuses young and restless youth that is constantly bombarded with love, relationship and life's issues.
The Pakistani romantic drama film directed by Mahreen Jabbar will certainly be a huge affair as the cast that we have on board will make the film super hit and fun to watch.
Mahreen Jabbar has taken the lead as the directors while Salman Iqbal has produced the film with Mohammad Jerjees Seja being the co-producer. the film is a Production of  ARY Films and contains  all the popular names of the industry as lead roles including Ali Kazmi, Hareem Farooq, Adeel Hussain, Tooba Siddiqui, Sanam Saeed, Atiqa Odho, Shaz Khan, and child actor, Musa Khan.
Here are some points that you must know about the film, the story and the overall movie:
1.It's a film with emotional drama regarding relationship in the Modern Era
The team of Dobara Phir Se was also present at the premier and actress Sanam Saeed opened about the romantic drama where she will be playing the role of Samar, a young stable woman. She said, "The beauty of this slice-of-life film is that it's a simple story that will connect with you and me. It will tug at your heart strings. Set in New Yok, you will begin identifying the problems and angst of each and every character,"
2.It's an Ensemble with a Solid Script
Unlike typical Pakistani films, Dobara Phir Se will be something that other directors will look up to Ali Kazmi, who is also playing a lead role in the film shared about the script and said, "Usually you have a hero, a heroine, and a villain in a Pakistani film. But for the first time you have an ensemble with a solid script. What I love about Mehreen is that she doesn't simplify the matters of the heart. The characters in this film are seeking answers in life. The question is do they get those answers that they are looking for," Ali will be next seen working on an international assignment of Angelina Jolie's animated production, The Bread Winner.
3.The characters are Modern, Liberals and not at all Desi
Aren't we done with all the typical simple living characters that are always depicted in TV serials? If yes, then Dobara Phir Se promises to bring out the modern, liberal characters live. Talking about it, the talented Sanam Saeed commented, "For all those who have seen us in TV serials, they know that we are often seen in desi, rural, simple roles. Perhaps, the audience is bored of seeing us that way and it's an important film for our careers too. It's liberating to play such a role,"
4. The film is not inspired by Karan Johar or any other Bollywood story
Mehreen Jabbar, the director of the film went on to explain how different the storyline of her movie is and how she has tried to make her fit well with the overall direction, location, and plot. She further added, "Absolutely not. The story is original and comes from our tradition of storytelling. We have Pakistani dramas to look back to. Perhaps, you might get the director Zoya Akhtar vibe from our film. Apart from the scene in which they are on a road trip driving a vintage red convertible, there's no further similarity to any other Bollywood film,"
5. The life of a Bachelor
Males in Pakistani society also have to face certain labels. Dobara Phir Se portrays this issue in a different way through the character of handsome hunk Hammad Played by heartthrob Adeel Hussain. In the small talk at the premier, Adeel speaks about his character and said, "It's incredibly enjoyable to play a male character that's happy to do his own thing. I play a single guy, by choice. There are no labels given to him or there's no pre-judgment of his bachelor existence. Our Pakistani cinema has usually focused on love, rebellion, and marriage as the culmination, but this movie has a different treatment,"
6.Looking for Women empowerment? Mehreen Jabbar has got it covered
Speaking to the media, actress Hareem Farooq who will be seen playing the role of Zainab went on to discuss how women empowerment has been highlighted in this film and adds on, "Mehreen is all about female empowerment in a subtle way. Look at Hareem's character that plays Zainab. She's so strong, despite going through a lot in life. She bounces right back. She has also changed the narrative of a man-woman interaction. The perception of how a couple should argue, whose voice should be raised and who should be a dominant player has been altered in Dobara Phir Se. Nor does she portray a woman who fights as a shrill banshee,"
7. Optimism is the Heart of this Movie
The centre them of the movie does revolve around life, love and relationships but throughout the movie, one thing binds all of these elements together and that is 'Optimism'. Ali Kazmi mentioned that "There's an inherent optimism running through this film. It has young people who make decisions in life based on their instincts and it felt great to play such a liberating role,"
The trailer is so promising and lively that it will make you jump from your seat while watching the amazing and beautiful view of New York – the city of dreams. Compared to those typical love stories and societal issues, Dobara Phir Se is a movie with a new story line filled with laughter, drama, love, fun and entertainment.
All eyes are set on the amazing cast as the date of the film approaches near. If you haven't bought the ticket of the film yet, it's time to go out for this movie and enjoy it.
Watch the Offical trailer of Dobara Phir Se:
Dobara Phir Se – Title Song
Rasta Tham Gaya (Dobara Phir Se Song)
Lar Gaiyaan Song- Dobara Phir Se
Official Poster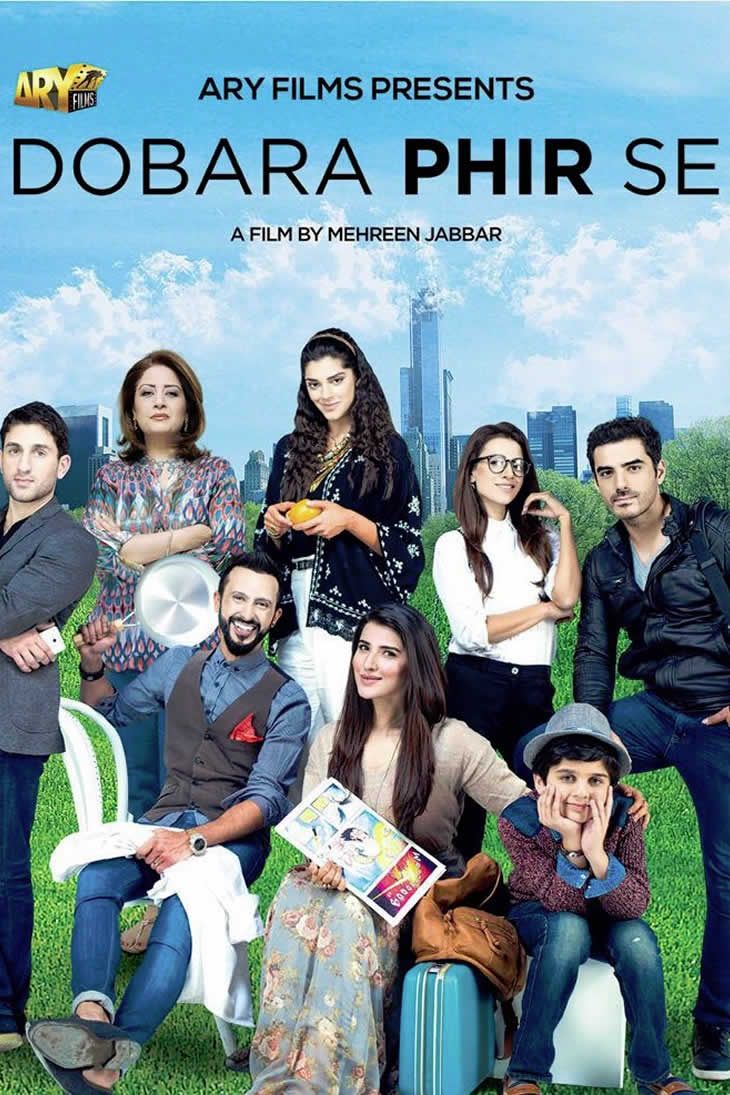 Here are some of the BTS stills