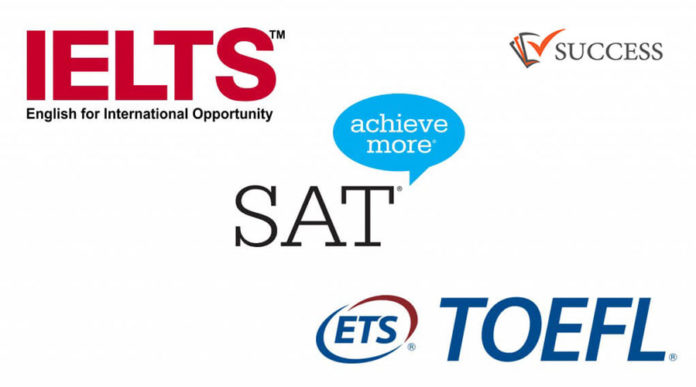 Do you feel uncomfortable when you think about how to ace in your IELTS, TOEFL, or SAT tests?
Do not worry yourself at all; everyone else taking the English language tests is probably feeling exactly the same as you are. The exciting news is that you can achieve high scores in your exams by building up your capabilities before and during the actual exam. How can you do that?
Well, building up your capabilities actually means that you will be absolutely prepared and ready to do your absolute best during the exam.
This article will be focusing on the things you can do to make your preparation better to score unexpectedly high in your English language exams like IELTS, TOEFL, or SAT.
Here are some pro tips and tricks to follow and make it possible!
TOEFL (Test of English as a Foreign Language):
There is no alternative, in order for you to score high in these exams; you have to make good use of your time, money, energy, and all other resources. The more you practice, the more chances increase for you to score high in exam. So, the question is how can you make it work? Here are a few guidelines to follow:
Make sure you are ready:
Try to take the maximum time possible for your preparation for the exam. If it is possible, postpone the exam for a few months, this will give you more time to study and get yourself fully prepared. Do not try to attempt the exam until and unless you feel 100% sure that you can take this exam to gain a high score.
Create your very own Study Plan:
Get access to practice tests and make a plan. Try to take practice tests every week or two to make sure that you are making any progress. If you are unable to find any practice tests you can always make your own test. Always stick up to the plan and work hard. Do not lose focus.
Take your own exam:
Before the actual exam, you can conduct your own personal exam. Try to imitate the real exam for practice. Collect some practice tests for the week and get up every day early in the morning. Take a full test every day without any help with the exact same time limit which will be applied in the actual exam. This will show you if you are ready for the exam or not.
Get yourself some help:
Ask your family, friends, or teacher to help you. You will probably be able to do reading and listening by yourself, but you will definitely need help in wetting and speaking sections.
Make your vocabulary strong:
Remember, this is a language test, so you cannot just rely on the same words from the task directions. You must prove that you know a variety of English vocabulary by using a lot of synonyms. Try learning new words and expressions every day. Also, make sure you use these words in your own sentences.
Do not waste time:
First, try to answer the questions you know you have the correct answer to. Aim for the easy questions so that you can solve most of the exam fast and get more points. Do not waste your time if you do not know the answers to a specific question.
SAT (Standardized Test Widely):
There is no shortcut, but we can suggest some basic strategies which you can follow to gain the highest scores possible in your SAT. So, without wasting any time here are some suggestions that can provide encouragement and comfort students, aiming for SAT.
Take AP Courses:
When we talk about the SAT test, most students ask: How soon is too soon? What is the best time to begin the preparation for the test?
The fact that SAT focuses on skills and knowledge, one of the best ways is to prepare for the test is to take the most challenging coursework which includes honors or Advance placements (AP) courses available.
Take PSAT Related Tests:
Taking the PSAT in the 10th grade and the PSAT in eighth or ninth grade gives students the opportunity to experience a live testing environment; this helps the students establishing a baseline for college willingness, and realizes their strengths and weaknesses before taking the SAT test. The advantage of experiencing a live testing environment for a student is hoping that he will achieve a high score on the SAT, and research showed that students who do well on the PSAT/NMSQT also do well on the SAT.
SAT Practice on Khan Academy:
Khan Academy is the official College Board Partner for all SAT test preparations. So, make sure you take full advantage of all the free SAT practice materials you can find at their site, including videos, quizzes, and full-length practice tests. Etc.
The College Board, creators of the SAT, gave Khan Academy the authority and asked to build this personalized SAT practice program. Official SAT Practice provides all students access to eight, full-length SAT practice exams with real SAT questions from previous tests. Khan Academy also provides hundreds of additional approved questions, assemble into quizzes that help focus on specific skills.
Furthermore, Official SAT Practice is absolutely free; it can control your actual performance on PSAT-related assessments to create free, personalized SAT study plans. This allows students to prepare smarter, to work on the things they need to, and to track their progress over time.
15- Minute Rule:
You would not believe it, but it is true. A 2017 research showed that "students, who studied for at least 20 hours on the free Official SAT Practice site, improved their SAT score by 115 points". Such students obtained almost twice as many points as students who did not make use of Khan Academy's facility.
Similarly, Khan Academy's research showed that "students who studied for just six hours total averaged a 90-point SAT score increment". This research proved that if you study just for 15 minutes per day—that is, answer 5-6 practice questions per day over the time period of 30 days, there is a good possibility that you will get the highest possible score.
Upgrade your Study Method:
In case you do not know, the SAT was restructured to more closely align with what students are learning in school. With the new SAT, there is no penalty for guessing; you no longer lose points for wrong answers. Only relevant math concepts are tested. The SAT makes it easier for you to show your best work. So if you are still trying to do your preparations with old methods you are not really preparing for the SAT. You will benefit more from simply work to do your best on your everyday reading and writing coursework.
Since the SAT now has no penalty for guessing, you no longer have to come up with tangled strategies or formulas for when it comes to answer a question. Instead, simply solve each question thoughtfully and carefully and show your best work. Good Luck!
Sindh govt with Microsoft launches Educational app for Primary Students
In the end, if things do not work out as you expected to be, do not worry. There is always another chance! Try to accomplish your goals in the next round.
IELTS (The International English Language Testing System):
IELTS needs no introduction; it is one of the standardized tests of the English language, whose scores are accepted by many universities around the globe, especially universities in Europe. If you plan on higher studies in Europe, you will need to take this exam to prove your proficiency in the different aspects of English.
Now, let us talk about some basic facts regarding the IELTS:
The test has a time period of 2 hours and 45 minutes and is scored on a scale of 1-9 bands in total. These scores are valid for two years since the time of taking the test.
Normally, there are two types:
ACADEMIC VERSION: This test is for the candidates who are looking for admissions in universities for higher education. Also, for the people who have some expertise in specific fields and wants to continue their jobs in Europe.
GENERAL TRAINING VERSION TEST: This is designed for candidates looking for non-academic entries and for work experience or immigration reasons.
The test is usually conducted on Thursdays or Saturdays.
How to score high in IELTS?
1. Understand the Test Format:
Both, Academic version and general training version have four sections, specifically Reading, Writing, Listening and Speaking, but they vary in the Reading and Writing Section.
You can attempt the listening, reading, and writing tests on the same day, on the other hand speaking test can be attempted seven days before or after the three tests.a) LISTENING TEST (40 minutes):
• There are total 40 questions cut into four sections of increasing competence beginning with a monolog or dialogue that is familiarize the candidate with the speakers and their environment.
• Each section can be heard only once with the questions provided towards the end of it.
Tips:
• Listening skills can be improved through many sample questions available on the internet. Remember, a good listener is always a successful person.
• For people with trouble in understanding the English accent, a large number of movies/ seasons with subtitles are available on torrent and Netflix which you can watch to improve listening skills.b) READING TEST (60 minutes):
• It contains 40 questions cut into 3 sections.
• The Academic Test composes of 3 long texts in the three sections with questions provided towards the end of each text.
• The General Test composes of 5 short texts in the three sections with questions provided towards the end of each text.
Tips:
• Try to improve your Vocabulary. Thrive to learn new complex words, break them to fit into your understanding and try to memorize them.
• Reading the newspaper and books increases the speed of reading which is essential to solve this section.
• Preparative materials, online forums, flashcards and practice questions give an idea of what type of questions to expect and help improving Reading skills.
c) WRITING TEST (60 minutes):
• It consistsof two tasks of 150 and 250 words respectively.
• In the Academic Test, Task 1 requires description of the given figure whereas Task 2 requires a report to the presented difference of opinion.
• In the General Test, Task 1 requires writing a letter describing the scene at hand or requesting information whereas Task 2 requires writing an essay regarding a viewpoint or an argument.
Tips:
• Vocabulary not only just improves Reading skills but also writing skills.
• The more you write, the more mistakes will be uncovered, and your writing skills and grammatical mistakes can be perfected.
d) SPEAKING TEST (11-14 minutes):
• It is an oral exam divided into 3sections.
• The first section is an interview where the candidate may be asked to introduce himself along with questions like: his hobbies, your daily activities. Etc.
• The second section provides the candidate with a topic and 1 minute preparation time to speak about it.
• The third section involves a conversation between the candidate and the examiner relating to the topic in the second section.
Tips:
• Communication is the most important basics to qualify for any education.
• Communication can be improved by speaking to a lot of people. This will help in expanding the Vocabulary and speaking fluently.
• Practice and more practice speaking in English is the only way to master this section.
In the end, the only way to improve your English skills is through a lot of Practice and dedication. Many Practice tests are available online on which you can work on, which helps in improving your English skills.
Hope this article would help you in achieving your ultimate goals and desires to score the highest score possible in IELTS, TOEFL, or SAT. If you have any further questions, do let us know in the comment section below. Good Luck with your exams!