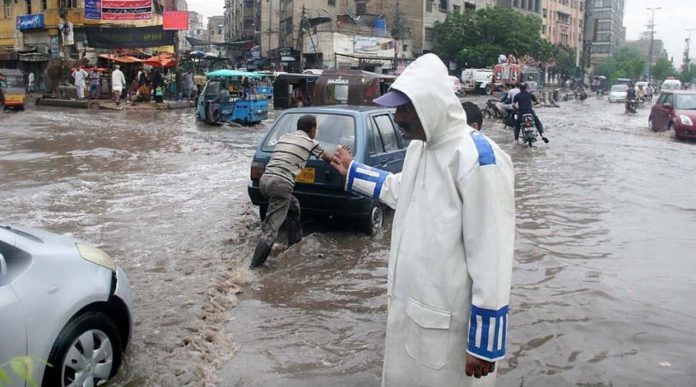 The Pakistan Meteorological Department (PMD) has predicted heavy rainfall, thunderstorms and urban flooding in Karachi and different areas of Sindh starting from Monday.
According to the PMD, a monsoon system is set to enter eastern Sindh on Monday, causing heavy downpours that will last until July 8. Karachi, Hyderabad, Thatta, Badin, Sanghar, Mirpurkhas, Tharparkar, Umerkot, Jamshoro and Dadu are likely to witness thunderstorms in this duration.
"The strengthened monsoon currents are predicted to generate widespread rain and thunderstorms in Karachi, Hyderabad, Thatta, Badin, Sanghar, Mirpurkhas, Tharparkar, Umarkot, Jamshoro, and Dadu from Sunday (night) to Tuesday," the statement added.
The Met department has advised all concerned authorities to remain "alert" and take necessary precautionary measures during the forecasted periods in order to avert any unfortunate incident.
With regards to the forecast, chief meteorologist Sardar Sarfaraz said that Karachi was likely to see a windstorm prior to the rains, with gales picking up speed and blowing at 60 kilometres per hour.
The storms are to follow a long hot spell in the province during which temperatures exceeded 40 degrees Celsius in several areas. However, it the maximum temperature in Karachi on Friday was recorded at 38.5 degrees Celsius and minimum at 30.5 degrees Celsius. Humidity levels remained between 73 per cent and 57 per cent in the metropolis in the day.
Meanwhile, the Sindh Solid Waste Management Board (SSWMB) managing director stated that the SSWMB had finalised a strategy to cope with the monsoon rains and provide relief to the masses.
The MD further said that complaint centres would be operationalised in each zone of the metropolis to resolve public concerns, adding that complaints could be filed at the SSWMB WhatsApp number 0318-1030851.