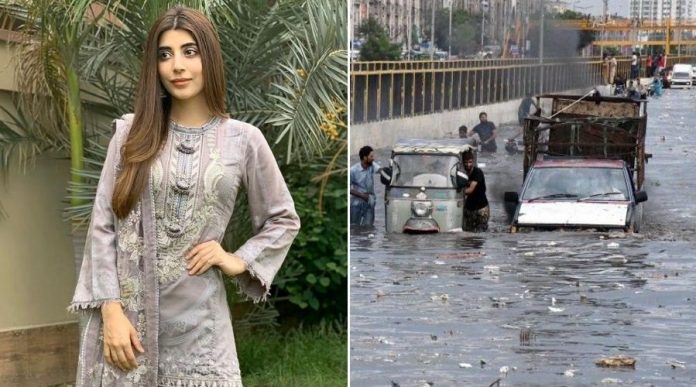 Karachi rains have devastated the whole city and its citizens. The businesses are suffering, the people are suffering, the infrastructure is in shambles and there is unprecedented life loss. And in this government and authorities cannot be found anywhere. And when amongst all this, a privileged actress like Urwa Hocane tweets that Karachiites should stop "whining", does not sit well with the people of the drowning city.
Urwa Hocane, the famed actress has blatantly tweeted that the people of Karachi are basically reaping the fruits of their own doing and should not complain now that the urban flood has hit them.
1/2 No doubt the government didn't care about the city but did we ! time to stop complaining & do something on our own & fix atleast our own colony issues in Karachi ! We can't even stop throwing the garbage everywhere we like. Gov doesn't have a magic wand! #KarachiRains

— URWA HOCANE (@VJURWA) August 27, 2020
2/2 It's the people who have to work hand in hand with the gov ! How many of you can come up with a solution. Why don't we start somewhere . Sab kuch government ka kaam nahi hota. Khud bhi kuch sochein, haath pey haath rakh k baithnay k ilawa ! #KarachiRains

— URWA HOCANE (@VJURWA) August 27, 2020
Though it is true that people of the city have become negligent because the government has neglected the whole city, but to blame them solely responsible for the losses incurred is very inconsiderate on Urwa's part. Urwa is a much loved celebrity and saying such statements from her, makes her fans disappointed in the starlet who maybe is not aware of the grave suffering all the classes are facing at the moment.
People surely gave Urwa back as good as she gave:
PLEASE keep your "elite" opinions to yourself. If you get off your high horse and for once think about things rationally you'd understand that proper planning of the drainage systems is something the GOVERNMENT should be taking care of. The citizens don't PLAN that.

— Wonderstruck (@winchesterkanss) August 27, 2020
And in case of very heavy rain to have a proper system to help the city and the people. I knew the hocane sisters had very little brain power but this tweet only further affirmed this. Just stop tweeting please

— N. (@Nay__t) August 27, 2020
People educate the actress, that the hard working people of Karachi pay their taxes and it was the governments part to administer and plan the city's infrastructure.
Urwa Hocane recieves hate online after posting a photo on Instagram
Are you charging money from the govt to speak in their favour. Common civilians don't have the resources nor the expertise to construct a whole new sewage/water drainage system. THIS IS THE GOVTS JOB WE PAY THEM TAXES, ITS THEIR RESPONSIBILITY TO BUILD BETTER INFRASTRUCTURE

— N. (@Nay__t) August 27, 2020
Sister,we are paying taxes and that money is given 2 provincial gov as funds for clean-up of cities.This's the sole responsibility of Sindh gov.Where's our tax money used?All the countries take steps on clean-up at gov level.If Army is sleeping,PPP is sleeping.#KarachiRains

— Pure Ideas Portal🇵🇰🇹🇷💪 (@pureIDEASportal) August 27, 2020
Planning not responsibility of citizens, people showed the extent the people can plan with, in their limited resources
Ok maam pic.twitter.com/F25TCZKA05

— . (@FARAZSSHAIKH) August 27, 2020
Ma'm tweet krna asaan Hai, and respectfully saying government ko vote aur text bhi tou ham hii detay hain na, Inka itna tou haq Hai k logon ki jaan bachayen, and why do we come up with a a solution honestly, baji gov se keh do paisay de dain, ham baith k solution sochty hain

— ggomo stan account (@lilzay666) August 27, 2020
People also turn the tables on Urwa and ask her what service has she done for the suffering of the people during all this time.
Absolutely. Where are you starting and what are you doing?

— Nuzhat S. Siddiqi (@guldaar) August 28, 2020
Chal phr a ky gutter saaf kr

— Jihan Sikander (@lo_maan_lia) August 27, 2020
Urwa no doubt gave her opinion wrongfully not keeping in mind the historic catastrophe that Karachi is facing right now and such opinions only create frustration rather than prompt positivity.