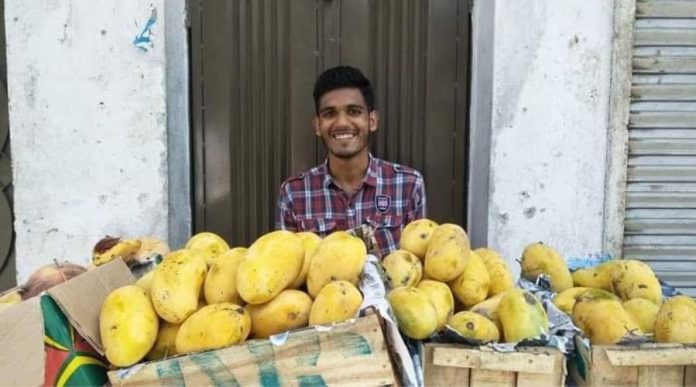 It is a great honour in life to be able to earn a good and permissible earning on your own and even nobler are all the professions that make a person learn and work hard for such livelihood. This is the mantra that a recent Engineering graduate, Usman Ashraf, from Nust believes and practices as he takes on the job of a vender, selling mangoes at a mango stall.
Usman, who belongs to Kasur, ended up setting up a mango stall as he graduated from NUST during the highest peak of coronavirus. Sitting for a long while idly was not acceptable to the young student which prompted him to set up this stall on a roadside as an experience which he had not ever had before.
"All the courses we learned in the university, I wanted to implement all the learning in a real life scenario. Thus, setting up a fruit stall was my go-to idea," said Usman.
"I was free as all business activities were closed due to lockdown so I decided to set up a fruit stall to not only bring my theoretical learning into practice but to support my family financially," says Usman Ashraf.
"I had studied human resource management, communication skills, professional ethics, engineering economics and entrepreneurship, and the basic purpose of setting up this fruit stall was a practical implementation of my courses concepts and polish my customer handling and public interaction skills," he said.
"As I had learned during my studies that locality matters in the growth of business, I selected an elite area for setting up my stall and so my experiment remained successful," Usman said.
Usman wanted to learn the daily difficulties and challenges faced by the blue collar working class and hence dove into it.
"During this experiment, I faced a lot of trouble. Sometimes people would say mean things to me, other times, I would get caught up in different problems," he added.
Usman beautifully displays that no matter what you do, as long as you do it with fervor and passion, good things will come your way with knowledge that is not attained through just books.