Have you ever felt like the world is full of surprises and mysteries waiting to be unraveled? Every day, something new and unexpected happens, reminding us that life is fleeting and nothing lasts forever. We all know that death is inevitable, but it's still shocking when we hear about young and healthy people passing away. This was the case with the talented and gorgeous Pakistani actress Saeeda Imtiaz, whose untimely death has left everyone stunned.
This Heartbreaking news has just been shared on Saeeda Imtiaz's verified Instagram account. Her team has announced that the young and vibrant actress, only 32 years old, was found dead in her room this morning. However, no further details are revealed yet. Here, have a look at the announcement made through Saeeda's Instagram account: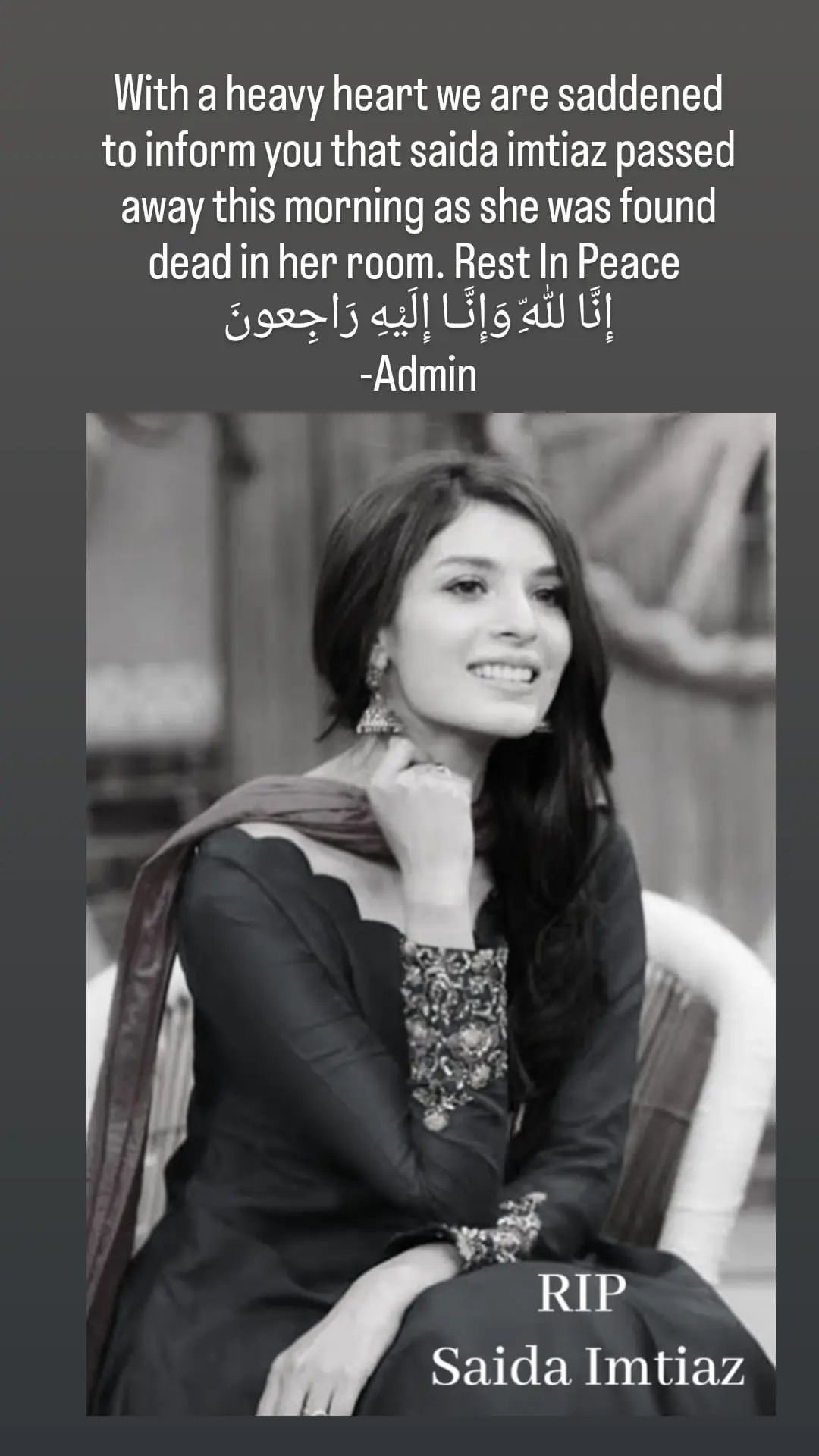 Saeeda Imtiaz's impressive acting career includes several movies and plays, including the biopic on the life of former Prime Minister Imran Khan. Sadly, the movie was never released due to various reasons, leaving fans eagerly waiting to see Saeeda's performance on the big screen. Saeeda Imtiaz's popularity skyrocketed after her appearance on ARY Digital's hit reality show, Tamasha.
Top 10 Best Pakistani Dramas of All Time With Highest IMDb Ratings
During an appearance on ARY Digital's morning show hosted by Nida Yasir, Saeeda Imtiaz revealed some interesting details about herself. She shared that she was based in the bustling city of New York and had a deep admiration for the renowned filmmaker, Mehreen Jabbar. In fact, Mehreen was the first person she approached for a break in the media industry.
"I was in New York and Mehreen was there too so I approached her and she said that I will get a single shot in a play and I agreed but when I went home, my mother was furious so I didn't do that play but I am a stubborn and pampered child so I later decided to move to Pakistan and work here," Saeeda Imtiaz had told the host.
Here is Saeeda's last Instagram story before the tragic news of her demise was posted by her Instagram account admin.
"I lost nobody I needed. The real ones are still around," the story reads.
The world has lost a shining star, and her fans are mourning the loss of such a talented individual who had so much more to offer. The news has sent shockwaves through the entertainment industry, leaving everyone in disbelief.
إِنَّا لِلّهِ وَإِنَّـا إِلَيْهِ رَاجِعونَ

Shocking, Saddening and Unbelievable news.
A pure sweetheart, the sparkling, shining, young, bold and well known Saeeda Imtiaz departs.
Saeeda was found dead in her room today, she departs on the night of 27th Ramadan,
Sooner or Later,… pic.twitter.com/6nB23ZRBYf

— Sheeraz Khan Soomro (@therealsheeraz) April 18, 2023
SAEEDA IMTIAZ PASSED AWAY? OMG I JUST REMEMBER SEEING HER IN TAMASHA RECENTLY. THIS IS SO SHOCKING. ALLAH MAGHFIRAT KRY AMEEM SUMAMEEN

— Brownie ✨ (@the_desi_dream) April 18, 2023
Pakistani Actress and Model saeeda imtiaz passed away this morning as she was found dead in her room. Rest In Peace
إِنَّا لِلّهِ وَإِنَّـا إِلَيْهِ رَاجِعونَ#SaeedaImtiaz pic.twitter.com/eTX1Ln6qEh

— Minha Miraj (@MirajMinha) April 18, 2023
Saeeda Passed away? Shocking #TamashaGhar

— Fitz . 🇵🇰 (@CostaRiccca) April 18, 2023
Famous Artist, Social & Political Activist @SaeedaImtiaz has been passed away.
She was found dead in her bedroom.💔 pic.twitter.com/c8fLK06plj

— Sikandar Dogar (@sikandardogar1) April 18, 2023
As of now, there has been no statement from Saeeda Imtiaz's friends and family regarding her tragic passing.