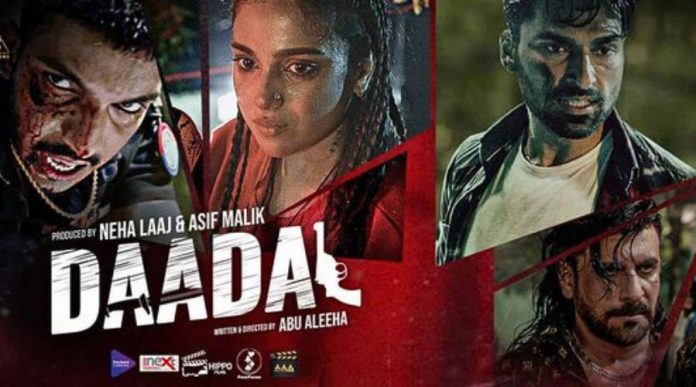 The most-awaited Pakistani film, Daadal has finally been released this Eid. The film offers a distinctive perspective on the world of gangsters and crime. The film is directed by Abu Aleeha, who is well known for his unconventional approach to storytelling and filmmaking, Aleeha's latest work promises to deliver something entirely different. Through a blend of horror, suspense, and action genres, Daadal takes viewers on a thrilling journey into the seedy underworld of gangster crime.
Cast: 
The movie features renowned Pakistani actress Sonya Hussyn and talented actor Mohsin Abbas Haider as the main lead. The cast also includes Maira Khan, Adnan Shah, and Shamoon Abbasi. The movie is written and directed by non-other than Abu Aleeha and produced by Neha Laaj and Asif Malik.
Story:
The plot of the movie revolves around Haya Baloch, a renowned and courageous female boxer hailing from the Lyari district of Karachi.
The character of 'Haya Baloch' will be played by Hussyn, while Mohsin Abbas Haider will portray a police officer in the film. The trailer provides a sneak peek into the adrenaline-fueled realm of boxing and crime, ensuring an edge-of-the-seat experience for viewers. The fans of both actors are eagerly anticipating the movie's release and are excited to see their exceptional performances on the silver screen.
Check Out Daadal's Trailer:
The Underworld of Lyari:
Daadal, the film, drew its inspiration from Aleeha's extensive investigation into Karachi's underworld. His findings revealed that Lyari's underworld was more intricate, ruthless, and structured than its Mumbai equivalent. The movie employs the character of Daadal Baloch, the patriarch of Rehman Dakait, who instigated the surge of gang conflicts, organized crime, illicit activities, and coercion in Lyari, to serve as a representation of criminality, mafias, and gangsters.
Aleeha's perspective of Lyari's underworld as seen through the eyes of a female boxer is what inspired the film Daadal. This is where the lead protagonist, played by Sonya Hussyn, fits in perfectly. Aleeha was convinced that she was the ideal candidate for the role, considering her rigorous physical training regimen. Additionally, Hussyn dedicated herself to perfecting her accent, which was crucial to her character's authenticity. Aleeha explained that there are three distinct accents spoken in Lyari, which blend elements of Kachi Memon and Balochi to create a distinctive dialect. To further develop her character, Hussyn even visited the local markets in Lyari to observe women and incorporate their traits into her portrayal.