Pakistan's famous singer and songwriter, Maha Ali Kazmi, has shocked the music industry with explosive claims of sexual harassment against the renowned Noori Band vocalist, Ali Noor during Coke Studio auditions. The scandal has ignited a wildfire of buzz on social media, leaving fans and critics alike stunned and demanding answers.
Maha Ali Kazmi took to Instagram to drop a bombshell of allegations against Ali Noor. According to her, during her audition for Coke Studio, Noor pressured her into taking drugs after contacting her office in Lahore. Maha further claimed that Noor not only made inappropriate advances toward her but also sabotaged her audition.
Actress Saeeda Imtiaz is 'Alive,' Sources Claim Her Instagram Account Was 'Hacked'
Noor repeatedly interrupted Maha during her performance and asked a cringe-worthy question, "Will you sing with your own key or will we have to give you the key?" This left Maha feeling uneasy and exasperated. She expressed her frustration and disappointment with Noor, stating that he should be ashamed of himself for sabotaging her big break.
Maha revealed that Noor also asked her to come to Lahore and be molded into the shape he desired. Despite being an up-and-coming artist, Maha stood her ground and refused to compromise her self-respect for work.
Moreover, Maha accused Ali Noor of being a sexual predator who preys on young women in the industry. Her accusations have set the internet ablaze, and fans are demanding accountability from Noor.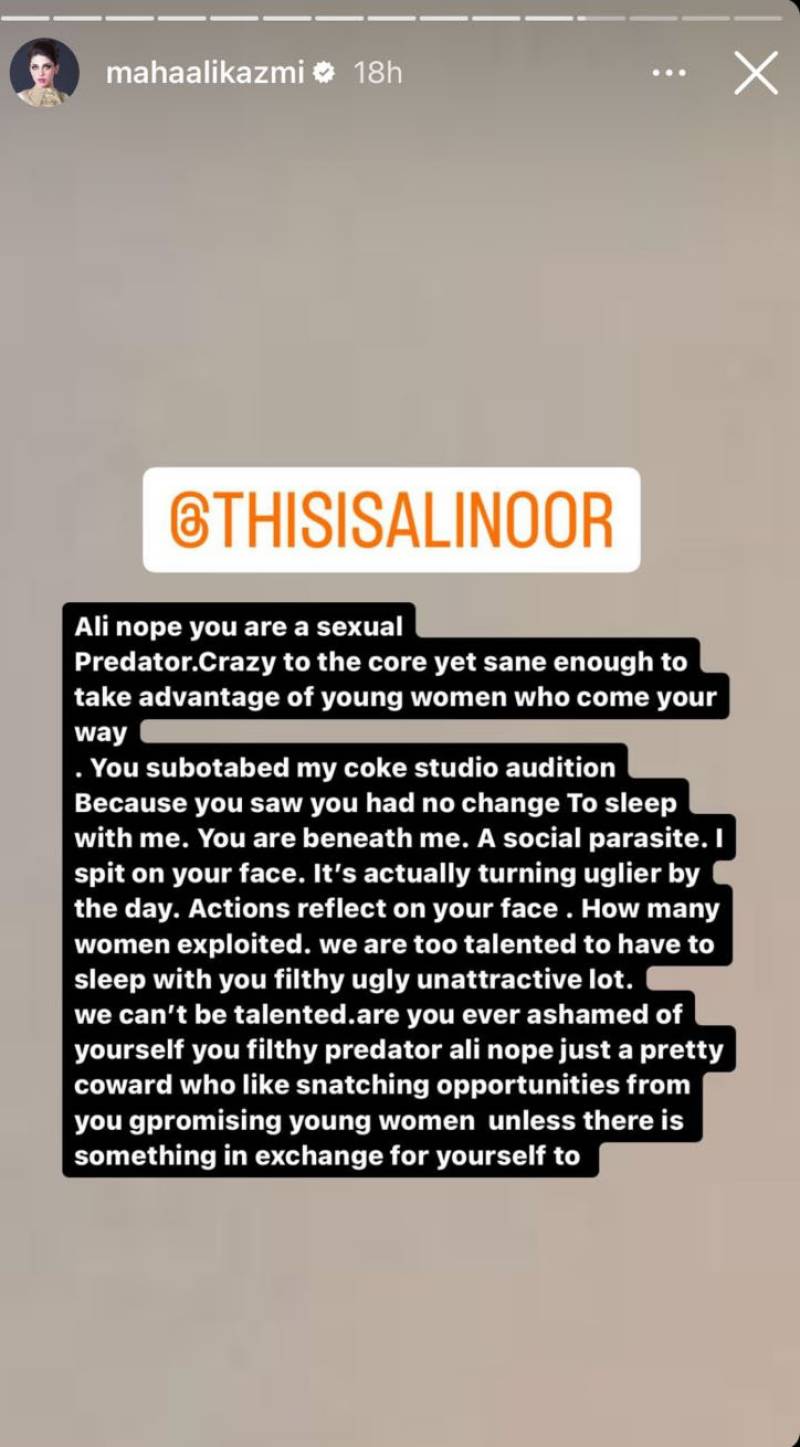 Top 10 Best Pakistani Dramas of All Time With Highest IMDb Ratings
Unfortunately, Ali Noor is no stranger to sexual harassment allegations. In February of last year, a female journalist named Ayesha Binte Rashid accused Noor of inappropriate conduct in a professional setting. Following the accusation, Noor issued an apology on his Instagram story and tagged Ayesha to clear the air. Despite the controversy, Noor has announced that his band is back in action.