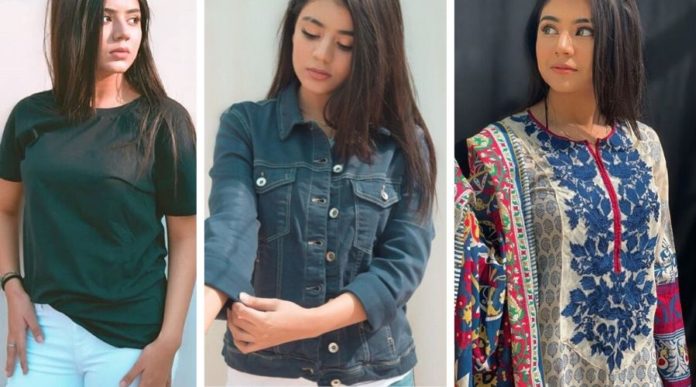 Areeka Haq is one of the biggest TikTok stars in Pakistan with 5.4 million followers and 135.2 million likes on her profile.
The 18-year old that has now become an internet sensation as her cute expressions and creative style have several hooked. She began posting to TikTok with regularity in August 2018.
Recently, the young star came under a lot of heat for being featured in the latest music video of the famed singer "Asim Azhar" as people did not think her talented enough to be featured in such a huge project and blamed Asim Azhar for just using the TikToker for her social media fame. After which huge names like Saba Qamar and many more took to twitter to shut down the trollers.
Areeka is famous for her lip sync videos and occasional comedy skits where the young star perfectly delivers her expressions and nails the videos.
Here is the list of top 10 videos by Areeka that you should watch right away:
Featuring a lip sync dialogue about young love, Areeka here perfectly delivers the expressions needed for it. The video garnered 11 million views in which Areeka is seen wearing a denim shirt with minimal makeup.
Sporting blue contact lenses, Areeka perfectly gives the most quirky and cute expressions in this video. The video features a Punjabi song on which Areeka lip syncs to perfection. Wearing a white organza kurta, Areeka looks absolutely ethereal in the video which garnered more than 12 million views.
Being one of the biggest TikTok talents in the country, Areeka shows great responsibility in this video by partnering with Techno mobiles for spreading awareness about the prevalent Covid-19 spread in the country. Areeka is seen wearing a mask in the video and explain some of the precautions.
Depicting a scene that is quite common in all the Pakistani household of offering tea to the all the family members and the subsequent reactions by the family that are either positive or mix, but everyone wants "chai". Areeka hilariously plays to the skit and garnered 10 million views.
One of the most popular lip sync video on Areeka's profile is where she is singing to a prospective romantic partner, telling him how she wants him to treat her with gifts and good things. With more than 9 million views, Areeka here sports beautiful yet traditional statement earrings.
Featuring the famed hair stylist and makeup artist, Kashee, this video is all about Areeka getting that signature hairdo from the veteran stylist. Kashee is seen giving the TikToker a perfect layering throughout her hair and finishing it off with some world class blow dry.
Sporting multiple outfits and looks that go with the lyrics is this lip sync video that gained more than 9.5 million views. Areeka is seen wearing a jeans jacket and then switched to a white chikan kari shalwar kameez all the while giving perfect expressions as required by the song.
Addressing a love interest in this video, Areeka is seen lip syncing to the dialogue where she says that "you can find someone pretty like her, even intelligent like her, but nowhere can he find someone as passionate as her". The confessional video gained 8 million views.
The video featuring a bridal shoot that Areeka modelled for, gained over 14 million views. The young model is seen wearing a colourful ghaghra with a cream coloured choli and completing dupatta draping from her head to her toes.
Featuring the hit Punjabi song "moonroof", black Lexus and a gent's style black Kameez Shalwar, Areeka perfectly has created the persona needed for this lip sync. The video gained over 10 million views and has the perfect swag from the young artist.
Areeka Haq is definitely a TikToker in Pakistan who is bringing out content that is loved by everyone and should definitely be checked out.