When you are marrying the love of your life and have put so much investment and effort to make your big day the 'best day' of your life, wouldn't you want to capture all these beautiful moments so that whenever you open your wedding album, you can remember and almost feel the beautiful atmosphere of your wedding day? For this, you need the best photographer and camera lens, that can make your special day rememberable for the rest of your life.
But, besides all of this, you also want to have an amazing shoot venue, In the 'city of light,' Karachi you can find exotic beaches, historical buildings, beautiful towers and skyscrapers, and traditional pathways that offers a full spectrum of diversity enough to bring a digital image to life. In this article, we will list the top 5 outdoor wedding shoot locations that will make your big day even more special!
1- Do Darya :
The Do Darya is no doubt one of the most romantic places to visit in Karachi, especially during the sunset, the location gives you a very peaceful and calming experience. Do Darya, located in DHA, Phase VII, offers a mesmerizing view for the wedding couple to get eye-catching photos.
2- French Beach:
Having a wedding photoshoot at an exotic beach is a dream come true for any couple. French Beach is located in the middle of Karachi's Hawks Bay and Paradise Point, which offers a pristine and private location with a rocky shoreline and pebbly beach, making it the perfect wedding spot in Karachi.
3- TDF GHAR:
If you are someone, who is looking for an old and vintage background for his/her wedding shoot then TDF GHAR is the best choice for you. The TDF Ghar is a beautifully restored house from the early 1930s. The house gives you the old Karachi vibes with its high ceilings, rusty fans, and old-fashioned architecture.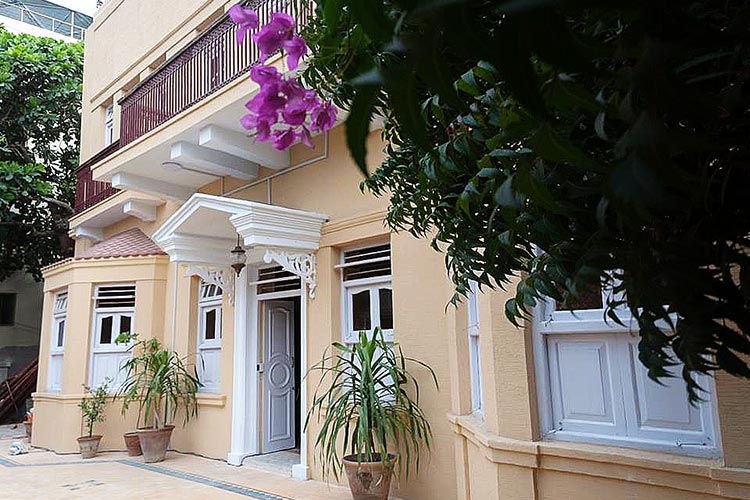 4- Mohatta Palace: 
The Mohatta Palace is another historical building location, which offers a very beautiful and royal shoot experience. The Palace consists of nearly 12000 square yards, which gives both the photographer and the couple enough room to have their perfect wedding shoot.
5- Bagh Ibn-E-Qasim
If you are someone who loves greenery, then you should try Bagh Ibn-e-Qasim, it's the city's largest urban park with an area of around 130 acres. The park also has a beautiful rose garden and a turtle pond. The whole park is filled with lush green grass and beautiful architecture, and the best part is that the park is located near the seashore in Karachi.
6- Frere Hall 
Frere Hall is one of the most iconic building structures in Pakistan. It was constructed during British rule in 1865 and is located in Saddar, Civil Line. The building is a fusion of British architecture and colonial heritage, which makes it a very famous venue for wedding photography and other special events.