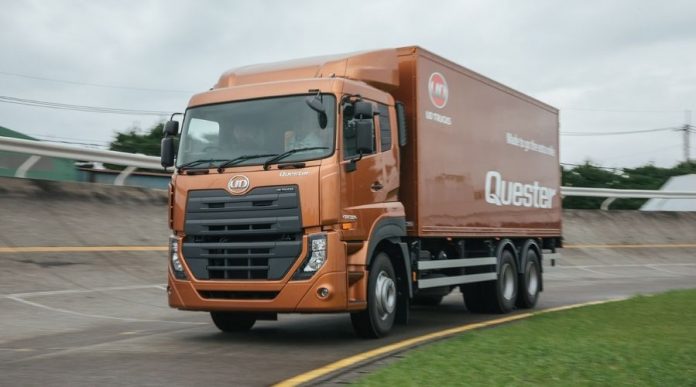 UD Trucks has launched Quester heavy duty truck developed for growth markets in Pakistan, UD Trucks Corporation is a Japanese truck manufacturer that has appointed VPL as the authorized importer of UD trucks in Pakistan.
In the latest update shared by a renowned automotive journalist, Hanif Memon, it has been revealed that Volvo Pakistan Limited (VPL) has decided to import UD Questor Commercial Trucks to Pakistan.
UD Trucks is a leading Japanese commercial vehicle solutions provider, active in more than 60 countries on all continents.
The demand projected of the modern trucks in the country has been expected to increase. The Quester launch in Pakistan is targeted at customers in the petroleum products transportation sector, where demand for high-output engines is foreseen.
Quester is offered in three models: 6 x 4 tractor (rear-wheel two-axle drive); 6 x 2 tractor (rear wheel, single-axle drive), and 6 x 4 rigid (single vehicle). Its 370 hp engine delivers high power as well as excellent safety performance.
Under a new contract, VPL Limited will be responsible for import, sales and service of Quester through three sales and service locations in Karachi, Islamabad and Lahore.
The launch event for Quester will be held by VPL on June 29 in Karachi for 300 guests including local business partners and media representatives.