In a whirlwind of events, two social media personalities, the controversial Waqar Zaka and Pakistan's biggest TikToker Jannat Mirza, starting butting heads after Jannat Mirza decided to school Waqar Zaka about real TikTokers and people who are just here for the buss.
The debate really started when Waqar Zaka openly supported the ban placed on TikTok and said that these TikTokers are not the real representation of the talent in Pakistan, rather only some kids here for "2 minute" fame high by spreading vulgarity. He particularly gave much hate to the famed TikToker Jannat Mirza.
On this Taking to her Instagram stories, Jannat Mirza reminded "Uncle Waqar" how he had made his name in the country. She wrote in the story "your vulgar live video calls, your challenges, your dares, your snap chat stories, I've watched all and they still are available on YouTube." Telling him off that a shady past cannot lead the future.
In response to her Instagram story, Waqar posted another video roasting the famous TikTok star, starting by calling her "Chachi Lasori".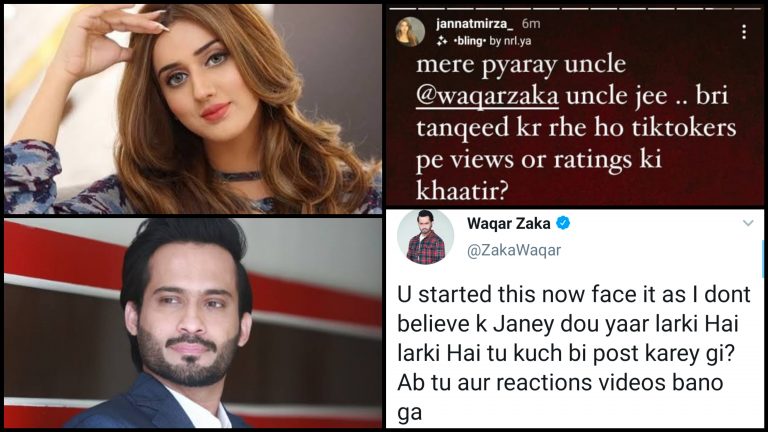 Zaka in his tweet wrote that now that Mirza had challenged him, she will not be spared.
People have also criticized Zaka for preaching something that he had never practiced himself.
After banning the famous short video creating app,TikTok, for the past 10 days, the Pakistan Telecommunication Authority (PTA) on Monday said that TikTok is being unlocked, after TikTok management made assurances to "block all accounts repeatedly involved in spreading obscenity and immorality".