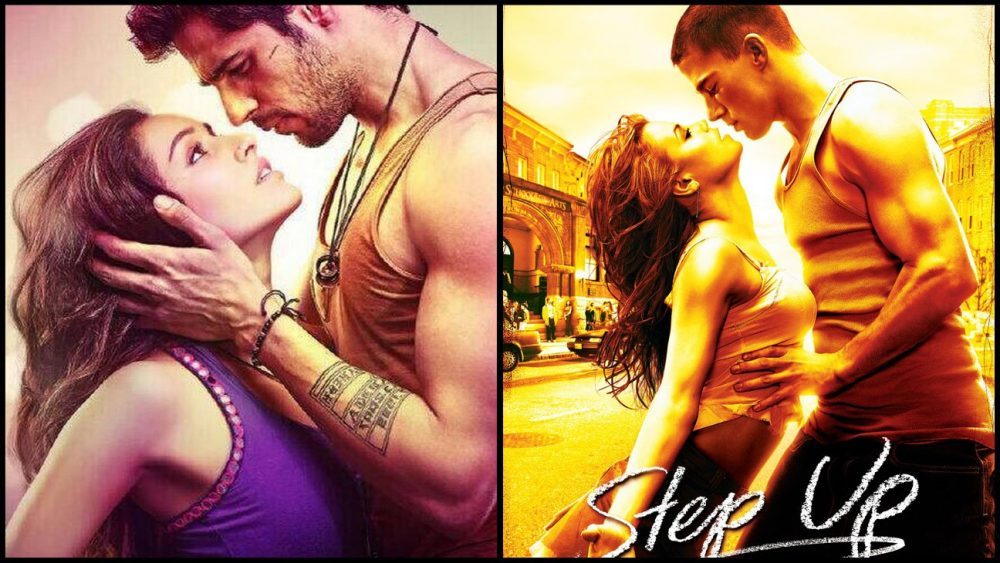 We all have been praising Bollywood movies from the time unknown but have you ever given a thought about movies' posters? some of the most famous Bollywood movie posters' like Kuch Kuch Hota Hai, Zindagi Na Milegi Dobara were copied from Hollywood.
Well, B-town's filmmakers have always been inspired by the great Hollywood but copying the posters from Hollywood movies and replicating exactly the same thing is not new in today's time. How many of you have ever given a glimpse to the Bollywood movies posters an think you have seen exactly the same thing somewhere else too? Thanks to our filmmakers who have taken Bollywood movies posters to whole new level.  Here are 20 best posters that will refresh your memory and will show you how our filmmakers were inspired from Hollywood
Anjaana Anjaani Vs An Education
Remember the super hit movie of Two Strangers falling in love? Decide who looks hotter Ranbir Kapoor  or Mathew Beard
2. Mausam Vs. Titanic
How can someone copy the iconic Titanic's Poster? That;s just plain wrong!
3. Kuch Kuch Hota Hai Vs. XYZ
If you are a 90's kid, you can't just forget to fall in love with this movie. Well, I would say Kajol looks better than SRK in the poster
4 Murder 2 Vs. Anti-Christ

Well, What can we say about this, copying taken to a new level!
5. Bhoot Vs. Final Destination 2
 
If you can recall the Final Destination series, yes, our filmmakers are in love with it too!
6. Atithi Tum Kab Jaogey Vs. License to Wed

This couldn't be done better no? Originality doesn't matter anymore sadly
7. Agent Vinod Vs. Johnny English

Like seriously? We didn't expect this from a Chotay Nawab's movie poster.
8. Xpose Vs. The Great Gatsby
 
Copying a poster from Leonardo DiCaprio's Movie is something unforgivable!!
10. Dilwale Vs. The Best of Me

Besides copying the action stunts, Rohit Shetty's films are now copying the posters too? They could've changed the colour of the clothes for God's Sake!
11. Dishoom Vs. Due Date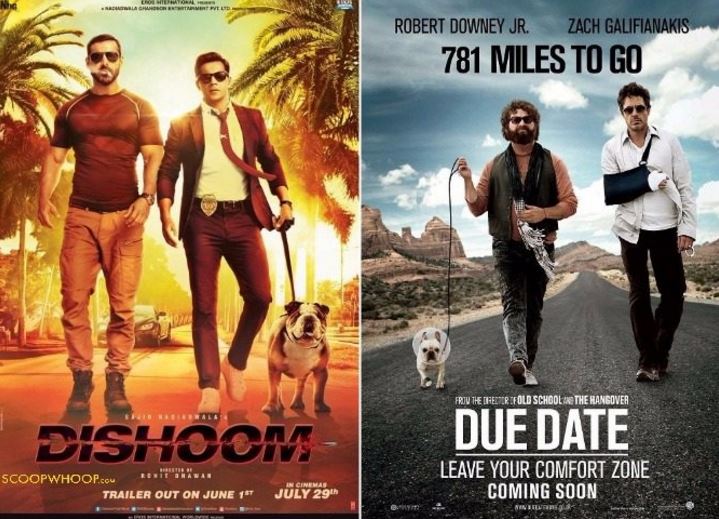 The hot Bollywood hunks against the two Hollywood stars, that's not fair at all!
12. Ghajini Poster Vs. The Hulk
Aamir Khan's body wasn't same as Hulk's. As they say, you need to have brains for cheating too!
13. Hulchul Vs. The Big Fat Greek Wedding
Looks like we are playing a game of spotting the differences! Can you find one?
14. Murder 3 Vs. Jennifer's Body

OMG! they thought to be original by removing the text and adding a rose stem.Bravo!
15. Hisss Vs. King Arthur
What a creativity of replacing Mallika Sherawat as King Arthur's Sword!
16. Zindagi Na Milegi Dobara Vs. Lords of Dogtown
Certainly, we didn't expect this from Farhan Akhtar!
17. The Lunchbox Vs. Looper
Is this coming from Irrfan Khan's movie? Disappointment
18. Phantom Vs. Homefront
Okay, so we are no more creative and we can't just get over with Hollywood movies posters.
19.  Rowdy Rathore Vs. The Replacement Killers
Don't Angry me? Well, You have made us Angry Akshay!
20. Ramleela vs. Revenge

So we are getting inspiration from Hollywood dramas too? Sanjay Leela could've done much better than this!
21. Ra-One Vs. The
So this is the third movie poster of SRK we have spotted to be copied!  Original Hero Vs. SRK, not a good match, though.
22. Ek Villain Vs. Step Up

Our filmmakers have certainly gotten way too inspired.  well, what can we say more!
Do you have a similar poster to share? Let us know in the comments below