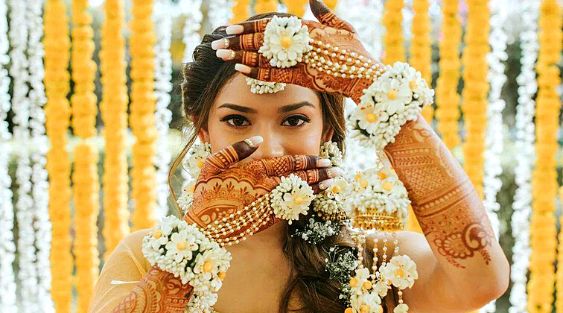 As we all know, the Wedding season is at its peak and every bride wants to look the prettiest and the most perfect bride ever on her big day. From expensive wedding dresses and shoes, the bride wants everything to be perfect and trendy. Nowadays, wearing Floral Jewelry at weddings has become a new trend, not just for The bride but for her bridesmaids as well. These pieces of jewelry oped with white flowers, which first started as a Maang Tikka, have now become an essential part of the Mehndi ceremonies as well. But let's be honest, this vibrant and colorful floral jewelry definitely matches the Mehndi vibes and gives a whole new feel to it.
So, if you are also a floral jewelry fan and want to buy them, we have listed some online pages that will give you some of the best deals in town and they also offer excellent delivery services around the country.
The Flower Studio:
The best part of this page is that they offer "free" delivery to their valued customers in Karachi, Lahore, Islamabad, and even Rawalpindi. They provide beautifully customized floral jewelry that will add a little oomph to your heavy bridal look. Recently, they also announced that famous YouTuber Ducky Bhai's wife Aroob Jatoi wore their floral jewelry on their mehndi event.
Floral Bridal Jewellery:
Floral Bridal Jewellery is one of the most popular online pages that offer premium quality customized jewelry pieces to its customers. The prices for floral jewelry are also very affordable and the best part is that they have worldwide delivery options with multiple payment options as well. They also offer matching Khusa shoes with your Floral Jewelry and if you want something extra, they can also add some pearls and stones with the flowers, this will definitely give you some extra bling with your traditional look.
 Flowerworks Pk
Flowerworkds pk is a leading floral jewelry page in Pakistan that offers beautifully customized jewelry pieces. You can simply just DM them and tell them which kind of flowers and design you want and they will deliver you. They have a wide variety of options including Gajray, flower headpieces, flower bracelets, and bouquets.
SendFlowers.pk
This online store is currently operational in major cities of Pakistan like Islamabad, Lahore, and Karachi. You can order them for any kind of event decoration like birthday parties, valentines day, mothers day or even at wedding events. You can also make orders for custom-made Floral jewelry for your mehndi events.
Mehndi_Decoration
The Mehndi Docarations is currently only available in Karachi and deals with fresh flower bouquets, custom-made floral jewelry, gajray, headpieces for brides, and wedding decorations. They also flaunt Hiba Bukhari's elegant Mehndi look with their beautiful Head Flower Tikka, Pearl Earrings, and Gajray adding more glow to the actress.