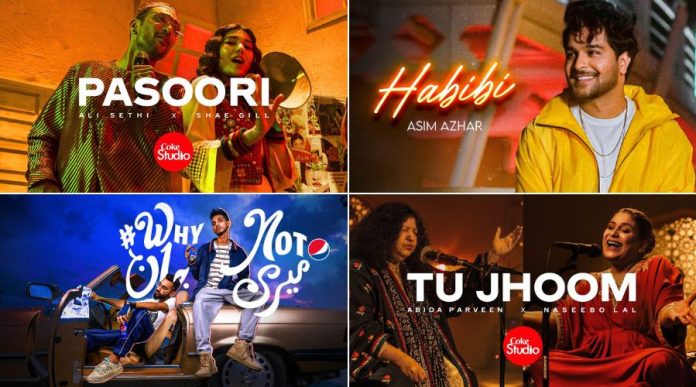 In the past few months, The Pakistani music industry has been gaining a lot of positive attention not just in Pakistan but from all around the globe, for making some of the best songs ever. Meanwhile, Coke Studio 14 also rolled out hit after hit songs this season, and the singers have received immense love from all around the world for their exceptional performances. So, without any further ado, let's see which are the top 5 songs that are trending in Pakistan right now.
1. Pasoori – Ali Sethi x Shae Gill
Coke Studio's Pasoori, is definitely at our no.1 spot. Ali Sethi and Shae Gill's masterpiece song became a global hit as soon as it was released. The song grabbed everyone's attention for its catchy lyrics, fine tunes, and amazing production. The songs also captured immense love from across borders. Bollywood singer, Arijit Singh also covered the song during his concert in India. Pasoori also made it to become the most Googled song of 2022, beating BTS's 'Butter.' The song even topped the Spotify charts in Pakistan, India, and other countries. The song has gained a whooping 490 Million views in less than a year.
2. Kana Yaari – Kaifi Khalil x Eva B x Abdul Wahab Bugti
Another Coke Studio 14 song, Kana Yaari, was an instant banger for its amazing combination of Kaifi Khalil's soulful voice, Eva B's energetic rap, and Wahab Bugti's traditional music. The song was added in many international playlists and top charts, Kana Yaari also caught the attention from around the globe, including the Norwegian dance group, Quick Style. The Quick Style, dancing on the Kana Yaari got viral overnight and received millions of views.
3. Kahani Suno 2.0 – Kaifi Khalil
The Kana Yaari singer, Kaifi Khalil amazed everyone, once again with his soulful voice and super hit song Kahani Suno 2.0. The song got so much viral that Singer Aima Baig also tried to cover it, but soon after the release netizens trolled her for ruining the song and told her not to destroy the original vibe. Kaifi's Kana Yaari has gained over 42 Million views on YouTube in just 7 months and it's still growing.
4. Why Not Meri Jaan – Young Stunners
Young Stunner's Why Not Meri Jaan was released in collaboration with Pepsi and it's probably one of the coolest collabs we have ever seen. The lyrics of the song were so catchy and the video was super trendy and had a great vibe. The song has gained over 19 Million views on Youtube.
5. Peechay Hut – Hassan Raheem x Justin Bibis
Hassan Raheem's 'Peechay Hut' featuring the viral Justin Bibi became the best party song of the year soon after its release. Hassan Raheem, who is a young rising artist in the music industry has recently grabbed the attention of many with his unique singing style and attractive voice. The song has over 19 Million views on Youtube and still growing.
6. Habibi – Asim Azhar
Asim Azhar's Habibi also became a global hit, with its catchy lyrics and cool vibe many international artists and actors made TikToks on 'Habibi' and appreciated Asim's work. Habibi has managed to gain over 12 Million views on YouTube.
7. Tu Jhoom – Abida Parveen x Naseebo Laal
Last, but not least, "Jhoom" by the legendary duo, Abida Parveen & Naseebo Laal was another Coke Studios super hit. The soulful voice of both veteran singers stole the heart of many, including artists and actors around the globe. The song has over 48 Million views on YouTube.