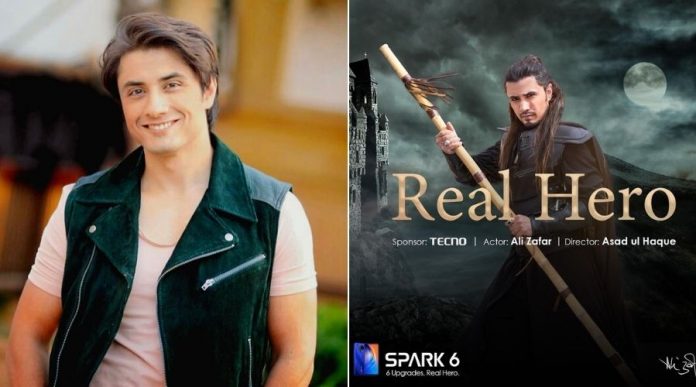 Mobile Mogul, Tecno Mobile has always stayed relevant and active on the digital media with creative campaigns and this time round they have really amped up their game by bringing superstar Ali Zafar as their brand ambassador, who will be starring in their latest short film.
The short film will be directed by Asad Ullah Haq, and will feature the latest Spark 6 phone by Tecno.
Tecno released the poster of the short film featuring Ali Zafar in medieval getup as "Real Hero".
Targeting the youth with their latest phone, Spark 6, Tecno made the right move by hiring Ali Zafar as their brand ambassador.
The look of the actor seems to be inspired by the mega hit serial "Ghazi: Ertugrul" as it continues to trend in Pakistan and Tecno is making sure to bank on the serials success in the country.
The latest phone has 16 MP Al quad Camera along with flashes, and 8 MP Al Selfie camera, dazzling 6.8" HD dot –notch display, and advanced G70 processor.
The launch will be taking place on 21st September and all the details along with price of the latest handset will also be revealed. The short film will be releasing with the latest phone as well.