Mesmerizing ever since her first appearance as Halime Sultan in the series "Ertugrul", Esra has become one of the most popular and loved actress by the Pakistani audience. After famously getting signed by Pakistani Mobile giants "QMobile" for their latest product release campaign, becoming their new Brand Ambassador", Esra has become the face for Jazz for the year 2020.
Speaking in an exclusive interview, Esra expressed how happy she felt to be part of such a respected brand and loved working with them
Esra became the face for the ace telecom provider in Pakistan and Jazz teased this news in the perfect way by sharing an image of the actress and saying: "Looks like we found our No. 1 too!"
The full reveal of the exciting news was made on Eid-ul-Adha when Esra dressed in a beautiful and traditional Shawar Kameez suit greeted the whole of Pakistan:
The full advertisement was released on-air and on social media where Esra is seen promoting Jass Super 4G dressed in a sharp suit, sporting her famous "minimal" look.
Pakistani fans are overjoyed to see their favorite Turkish actress become part of these Pakistani brands as it gives them a sense of mutual admiration.
But many in Pakistan did have a problem of integrating such a foreign artist to the famed Pakistani brands.
Causing one of the biggest controversies in this regard was the actor and comedian Yasir Hussain who condemns the airing and working of foreign content and artists in Pakistan. After being signed as QMobile's brand ambassador, he had this to say:
"Don't you think a Pakistani brand should have a Pakistani ambassador? Not Indian or Turkish?" he said. Adding on, Yasir named local actors who he deemed worthy enough for the spot. "Is Mahira, Saba, Sonya, Minal, Aiman, Amar, Zara, Haniya, Sana, Yumna, Armeena, Sara, Hira… anyone not worthy enough to be a brand ambassador for a Pakistani brand?"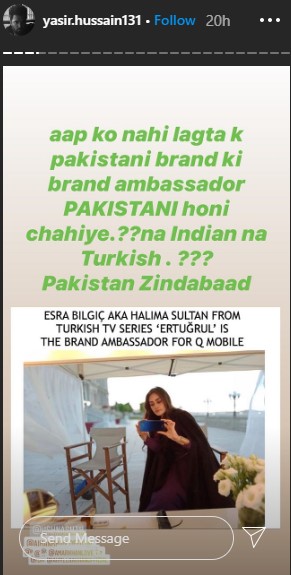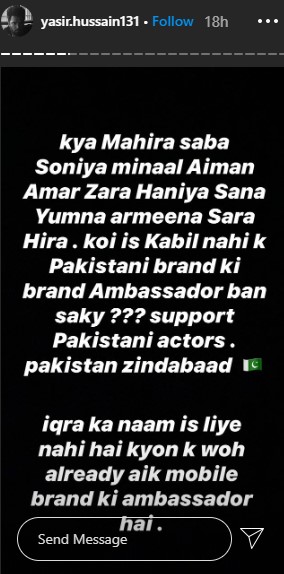 But people are none the less of the view that Foreign artists should be allowed to work in the country as should the local artists work internationally and such polarizing comments totally goes against the popular statement "art has no boundaries".