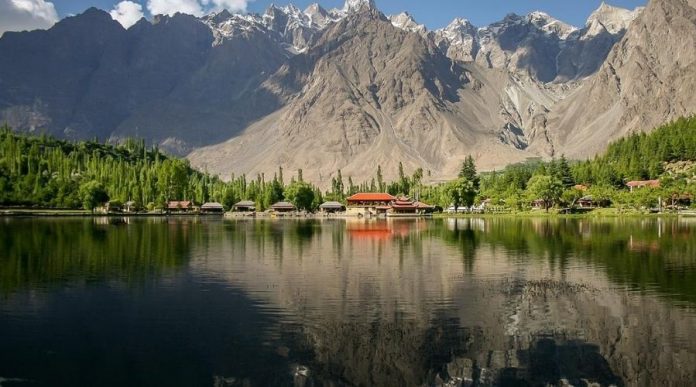 After a decline in coronavirus cases all over the country, Prime Minister Imran Khan allowed almost all tourist spots in Pakistan to be opened and after this announcement, Deputy Commissioner of Skardu also made the announcement via a tweet that Skardu will now be open for tourists.
Skardu is now officially open for tourism. However proof of a negative coronavirus test result is must for all tourists. @HomeDeptGB @RandhawaAli @agoraya

— Deputy Commissioner Skardu (@DCSkardu) August 10, 2020
As per his directives, all tourists entering the area must "proof of a negative coronavirus test result" and then will be allowed.
Senior Minister of Punjab and Minister of Food also shared the excitement for opening all the major locations for tourism
پاکستان نے ٹورزم کھولنے کا فیصلہ کیا ہے جس سے دنیا بھر کے سیاحوں کو پاکستان آنے اور مقامی ٹورزم کو فروغ دینے کے ساتھ ساتھ پاکستان کو معاشی طور پر مضبوط ہونے میں مدد ملے گی۔ #PakistanOpensTourism

— Abdul Aleem Khan (@aleemkhan_pti) August 10, 2020
Asad Umar urged everyone to strictly follow the SOPs as the virus is still not completely gone
Due to significant decline in spread of covid, to allow citizens to enjoy the magnificent natural beauty of Pakistan & people of those areas to earn livelihood which is dependent on a few months, #PakistanOpensTourism. However, disease is NOT gone. SOP's MUST be complied with.

— Asad Umar (@Asad_Umar) August 10, 2020
"Restaurants and cafes, outdoor and indoor, will be allowed to open from 10th August and standard operating procedures (SOPs) will be finalised in next two to three days. Moreover, public parks, theatres, cinemas, amusement parks, arc­a­des, expo centres and bea­uty parlours will also be allowed to open from Monday," Minister for Planning and Development Asad Umar said at a media briefing after the NCC meeting.
The minister said restrictions on road travel were being lifted on Monday, but permission would not be given for standing and travelling on buses.
Meanwhile, Hazara Division Commissioner Riaz Khan Mahsood advised the tourists from across the country not to visit the Hazara division as the KP government had imposed a ban on tourism in the wake of COVID-19.