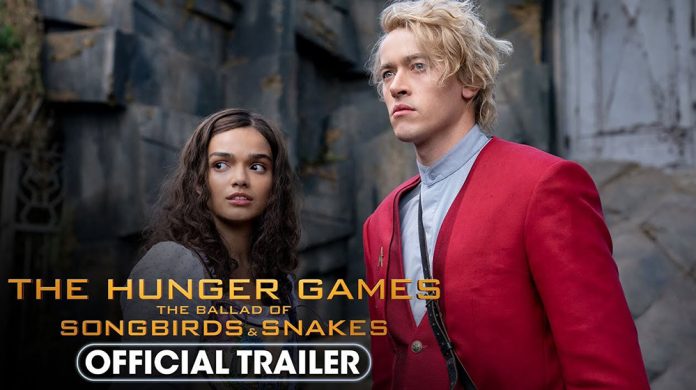 Attention, fans of The Hunger Games! Prepare yourselves for an exhilarating experience as the much-awaited revival of the legendary franchise has set the world abuzz with the release of its new trailer for Ballad of Songbirds and Snakes. The film stars a stellar cast, including Tom Blyth, Rachel Zegler, Viola Davis, and Peter Dinklage.
The Hunger Games: The Ballad of Songbirds & Snakes Trailer:
The trailer sets a haunting tone with a mesmerizing melody and opens with a balcony scene of a young Coriolanus Snow, played by Peter Dinklage, gazing out at the world. The trailer then takes us on an exciting journey through the world of The Hunger Games, showcasing the intense competition and its captivating characters.
Viola Davis's portrayal of President Alma Coin is stern and imposing, leaving a powerful impact on the trailer and adding to its intensity. Meanwhile, Dinklage's Snow perfectly captures the essence of cunning and ambition, hinting at a darker side to his character with his sly smirk.
As the trailer progresses, it introduces us to a range of unique and intriguing contestants, from the fiery redhead Lucy Gray Baird to the enigmatic Sejanus Plinth, each with their own captivating personalities to keep us engaged.
Story:
Set 64 years prior to the main series featuring Katniss Everdeen, the upcoming movie focuses on Coriolanus Snow (Tom Blyth) and his protegee Lucy Gray Baird (Rachel Zegler). Baird is selected as a tribute from District 12, which is struggling with poverty.
Snow, the last hope of his declining lineage in a post-war Capitol, initially hesitates to mentor Baird. However, he eventually recognizes her charm and unique abilities that could potentially change their fate. While fighting for survival in the games, Snow will confront his inner demons and make a decision whether to become a songbird or a snake.
The film, based on Suzanne Collins' 2020 novel of the same name, is directed by Francis Lawrence, with Michael Lesslie and Michael Arndt responsible for the screenplay. The cast includes Peter Dinklage, Hunter Schafer, Josh Andrés Rivera, Jason Schwartzman, and Viola Davis.
Movie Release Date:
The Hunger Games: The Ballad of Songbirds and Snakes is set to hit theaters on November 17.