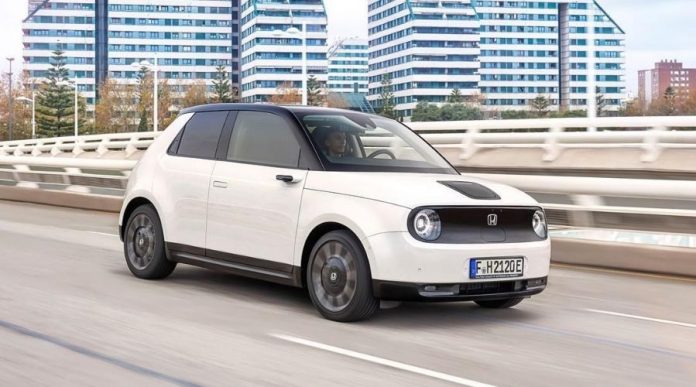 Japan's automobile giant, Honda is bringing out its first-ever mass-produced all-battery car. The electric Vehicle (EV) will comprise of a compact model rather than a bulky SUV that is usually the go-to when it comes to EV for many companies.
The dominating EV models in the market are by at the premium end of the market, for instance SUVs and sedans by Tesla, Audi, Mercedes and many more.
The reason for such a development is due to the high battery costs but Honda is about to change that by introducing a 35 KW/h battery with the capacity of just 280 kilometers per charge.
"Most EVs use large capacity batteries, but often, much of that capacity goes unused during city driving," said Tomofumi Ichinose, chief engineer of the Honda e, told.
Released in European Market in August, Honda e is the company's first mini-hatchback that runs on an all-electric drive-train. The aim of bringing out such a compact model is that there are no options for an EV that can be easily driven around the city and heavy traffic urban towns.
"We question whether larger vehicles are appropriate for urban areas, and believe that smaller is a better option for cities."
Performance:
The E will compete with other compact, city-oriented EVs like the Fiat 500e and the Mini Cooper SE.
Honda plans to launch six electrified models in Europe over the next three years.
The Honda E will come in two options: the E and the E Advance. The high-end will come with optional larger alloy wheels, increased power output, and extra tech.
The Honda E Advance trim has a claimed 152 horsepower and 232 foot-pounds of torque. It propels the car from 0 to 62 mph in 8.3 seconds, according to Honda. While the downgraded down claims 134 horsepower and a claimed time of nine seconds to get from 0 to 62 mph.
Both models feature rear-wheel drive and a 50:50 weight distribution. The models feature pop-out door handles and cameras in place of rear view mirrors. Both of those things smooth out the aerodynamics and contribute to the unique look of the E.
Interior:
The interior is bold yet comfortable, it has an HDMI input jack, to couple with a Chromecast dongle. The dashboard is completely covered by screens. There are two 6-inch side screens for the mirrors, along with an 8.8-inch driver info display. Then there are the two 12.3-inch touchscreens in the middle, one for the driver and one for the front-seat passenger.
It supports both Android Auto and Apple's CarPlay. The E gives you a lot of control over how you use the braking energy recovery system. With the click of a button in the center console, one can enable it for single pedal control.
The Honda Parking Pilot has got automatic braking to avoid collisions with pedestrians and cars, along with adaptive cruise control, lane keep assist, road sign detection, automatic high beams and more.
Price:
Honda is controversially priced well above all its competitors with a hefty price tag of $39,000 (6.6 million Pakistani Rupees), though all others have a much better mileage.