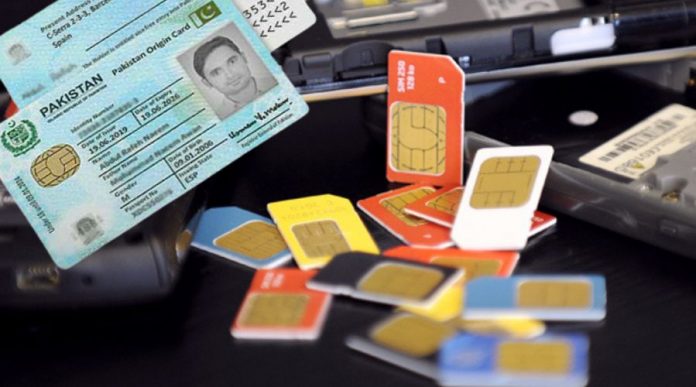 SIM card was first invented and manufactured in 1991 by the smart-card maker Giesecke and Devrient in Munich. This invention revolutionized the mobile phone and tech industry. A SIM card is basically an Integrated Circuit (IC), which can securely store the international mobile subscriber identity (IMSI) number and its key, which are used to identify and authenticate subscribers on mobile devices.
In the early 2000s, as mobile phones started to gain popularity in Pakistan, these SIM cards also started to become a necessity for every household and helped people connect to their loved ones. But as the number of sim card users increased, keeping track of these users also got nearly impossible for the companies. People started acquiring unregistered sim cards for criminal activities, which made it impossible for the police to trace these criminals because there was no record against these sim cards.
To counter this, Pakistan Telecommunication Authority (PTA) introduced a new system in 2009 under which people were forced to register their sim cards with their CNICs, and now they have also introduced biometric systems around the country. Any individual, having a valid CNIC can have Five sim cards registered against their CNIC and it is very important to keep only those sim cards active that are in your personal. So, if you have any other sim cards registered under your name you should block them as soon as possible so that they cant be used in any criminal activities.
If you don't know how you can check the number of SIMs registered against your CNIC and want to know how can you verify or even block one of them, you are at the right place.
How to Check Active SIMs on Your CNIC Through Website:
To Check the number of Sims registered on your CNIC online, just follow these simple steps mentioned below:
Visit the PTA SIM Information Website https://cnic.sims.pk
After that, you will be redirected to another page which will ask for your information
Here, you will be required to enter your CNIC information.
Verify that you are not a 'robot.' and click on the 'Submit' button.
After successfully completing these steps, a list will appear on your screen, which will show you the total number of SIMs registered against your CNIC and also the operator name of that SIM.
How to Check By SMS?
You can also check the number of registered SIMs on your CNIC with your smartphone via SMS.
First, Open your Mobile Phone Inbox and select the option to 'create a new message.'
Now, type your 14-digit CNIC number and send it to the number '668' (This SMS Will Cost you PKR 2).
After the SMS is sent, you will receive a message detailing the total number of SIMs registered on your CNIC that are active at each operator.
Now that you know how to check your active number of SIMs, there's something more we want to make you aware of. If you find out that the number of SIM cards issued against your CNIC is more than the actual number of SIM cards you own, it's crucial that you act fast and contact the Customer Service Centre of the respective Company Operator. Not only will this help protect your identity, but it could also prevent someone from committing fraudulent activities in your name.
If you don't take any action right away, it's very possible that you can get into a very serious problem, such as being held responsible for any criminal activities caused by the SIM cards that were registered under your name. So, Don't let someone else take control of your identity, take charge and protect yourself. Remember, prevention is always better than cure!
SIM Cloning:
If you are not aware of the term, SIM cloning is when someone copies all the information from your SIM card and puts it onto a different SIM card. This lets someone else use your phone number and account on a different phone, and any charges will be attributed to your original SIM card. It's important to keep your SIM card safe and secure to prevent this from happening.
SIM cloning is usually used by criminals. With this method, they can easily copy all the information from your SIM card and use it to make illegal calls and activities under your name. So,  If someone receives a call from your registered number that you didn't make, it's possible that someone cloned your SIM card.
To protect yourself from all of this, you must contact your cellular company right away and let them know. They can help you block the cloned SIM card so that no one can use your information illegally.
PTA Biometric Verification System:
To stop illegal activities through SIM cards and monitor the safety of cellular subscribers, PTA has introduced the Biometric Verification System aka BVS. With this advanced system, you can easily:
Activate or buy a new SIM card
Re-verify your SIM card
Get a duplicate SIM
Change the ownership of a SIM card
Solve mobile number portability issues
How to get your SIM card's biometric verification?
To avoid your SIM card from getting blocked, it's really important for you to check if your SIM is approved by the PTA. This means that you need to make sure that your SIM card is biometrically verified. To do this, you should first check if the SIM is registered under your name or not.
How to check the SIM owner's name?
If you want to know the name of the SIM owner, just follow these simple steps mentioned below:
Open your mobile phone and go to your Message Application.
Send a blank 'SMS' to 667
After sending a text message, you will receive a reply message that shows the name of the owner of the SIM card that the message was sent from.
How to block a SIM card registered against your CNIC?
If you have a mobile SIM card that you no longer use, it's a good idea to get it blocked so that you're no longer responsible for that number. Here's what you should do:
Go to the nearest franchise or customer support office of the company that provided the SIM card.
Bring your original CNIC and fill out a form to block the number.
The number will be blocked immediately and you won't be responsible for it anymore.