Owing to its massive popularity, TikTok has finally set up its official paid advertising program following Facebook, Instagram, Twitter, YouTube, and LinkedIn.
TikTok's advertising structure is quite simple and very much like the existing Facebook and Twitter advertising structures with Campaign, ad group and ads hierarchy. This will make it easy for an experienced advertiser to quickly adapt the latest TikTok ad structure, though beginners will need a trial and error session.
Many brands and retailers are taking advantage of this latest feature as TikTok has garnered a huge audience in Pakistan and avid users accumulate every day to view content on this app.
Here is a simple guide to making your own TikTok ads in Pakistan.
Create a TikTok Ads Account:
• Create a TikTok Ads Account
• Choose your billing country or region
• Then select whether you're using the account for a business or individual.
• Then click on "Next."
• Enter your email address and password
• Enter a verification code sent to your email or phone
• Then click on "Sign Up."
Create a TikTok Ad Campaign: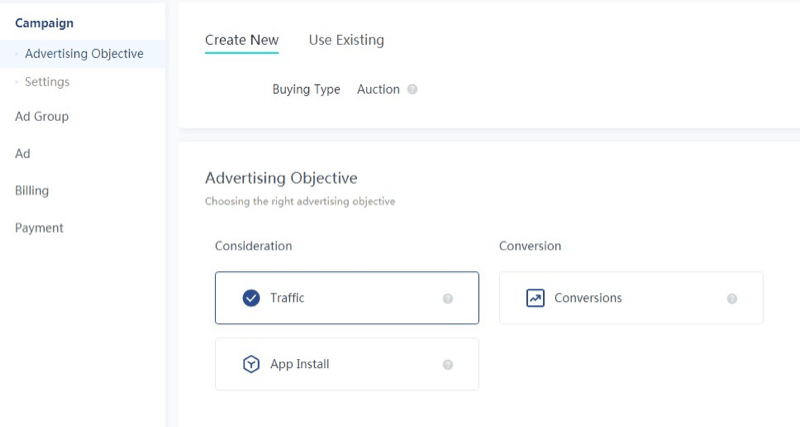 Start by creating an ad campaign under the "Campaigns" tab
• Click on the "Create" button.
• Choose your campaign objective – whether you want to drive traffic, conversions or app installs.
• give your campaign a name
• Set a campaign-level minimum budget at lifetime or Daily budget or this can be done on ad group level.
Creating a new Ad Group:
• Decide on the placements for your ad group.
• You can either choose automatic placement or manually select your targeting placement.
• Automatic placement will make sure that your ads appear on all the TikTok partner apps.
• With the "Select Placement" option, you get to manually choose which of the partner apps you want your ads to appear on.
Set Audience:
For setting up audience you have these choices
• You can make a tailor made audience that best suits you, this includes location, gender, age group, language and interest category.
• For specific audience group, you also have the option to create a custom audience. TikTok allows you to upload the IDs of users you want to target in a CSV, ZIP or TXT file.
Creating a new Ad:
• TikTok gives you the option to upload either a video or an image file as your ad creative.
• Enter your ad text using 12-100 characters
• Choose call to action. "Sign Up,""Download Now," "Contact Us," "Book Now," "Shop Now," "Apply Now" or "Learn More." Then click on "Submit" to finish creating your ad.
How much do TikTok ads cost?
TikTok is not as cheap as Facebook, Snapchat, Twitter or Instagram as TikTok ads start at $10 per CPM (cost per 1000 views). Also, they require you to spend a minimum of $500 on a campaign.