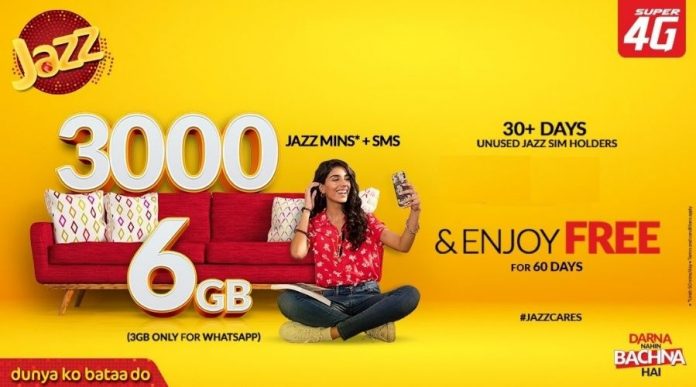 With so many exciting offers and options in the telecom market, players are always trying to find new customers and recently they have been coming out with offers to win back lost customers.
With many people choosing one telecom provider over another, many winning offers are being developed to lure the customer back. One such exciting offer is Jazz sim lagao offer, which offers exclusive bundles and data packages if one chooses to start using an old Jazz Sim that is no longer operational.
The offer is valid for those subscribers who haven't used their Jazz SIM for more than 30 days. On reactivation of Sim, Jazz subscribers will get 50 Jazz minutes daily for a total of 3000 minutes along with 3000 SMS and 6GB (3GB for WhatsApp) internet that will be valid for 60 days.
Jazz Weekly Mega 3G/4G Internet Package details For Weekly Activation
Additionally, Jazz users will get 50 Jazz minutes along with 50 SMS and 50MB of the internet for 1 day on using Rs. 15 or more, however, these free resources will not be valid from 9 pm to 1 am.
How to Subscribe to Jazz Sim Lagao Offer?
To subscribe for Jazz Sim Lagao Offer on the reactivation of Sim, all you need to do is as follows:
• Dial the code *551# from your phone after reinserting Jazz Sim.
• The service will be subscribed in a few minutes of sending the code.
• Subscription charges are as low as Rs. 0.01 (incl. tax).
• Jazz Sim Lagao Offer will be valid for 60 days from the day of subscription.
• To check the status of the offer, you can dial the code *553*2#.
• To check info related to remaining part of the offer, you can dial code #*551*3#
Jazz Tiktok Packages: Daily, Weekly & Monthly Package details 2020
Terms & Conditions for Jazz Sim Lagao Offer
• Customers will get 50 jazz + Warid minutes daily for 60 days.
• Bonus on Usage will be available for the first 90 days.
• All calls made through Reactivation offer will be charged Rs.0.17.
• A customer who has opted/activated this offer before Chand Raat will continue using same even during Chand Raat and Eid Holidays, however, new subscriptions to this offer by dialling *551# will not be available during Chand Raat and Eid Holidays, to provide better services to our valued customers who have already activated this offer.
• Internet offer can be subscribed and consumed in 2G/3G/4G networks areas.
• Overage of Rs.1/MB applies for all mobile internet bundles.
• Actual internet speed will depend on multiple factors like sim, device, web pages accessed, time of day, number of simultaneous users, distance from 2G/3G/4G site etc. In case of any complaint, please email at customercare@jazz.com.pk for further guidance.
• If you are not subscribed to any bundle base rate will be charged i.e. Rs.5/ MB. Charging pulse will be 512 KB.