As we come closer to the airing of the most anticipated celebrity show Koffee with Karan, we have also got to know who will be there sipping coffee with Karan. Koffee with Karan 2016 has become one of the most anticipated TV show where celebrities talk about their life, career and of course the B-town gossips that everybody is eager to hear.
Set to be aired on November 6th, this season will be filled with masala, gossips, love, friendships, relationships, secrets and what not.  A lot of excitement has been going around with the audience being eager as which celebrities will get to sipped coffee with Karan this season.
Koffee with Karan Season 5 Launch Date & Timings Confirmed!
With the guessing game on for celebrities, we have made it easier for you.  Here are some of the celebrities that will be there on the sets of KWK to talk candid.
SHAHRUKH KHAN & ALIA BHATT
Of course, How can Koffee with Karan start without SRK being the first person to be there. With Karan and SRK's friendship dating back to DDLJ times, it has always been SRK who has been the show opener. Let's see what this duo has to talk about their upcoming movie, Dear Zindagi.
AKSHAY KUMAR & TWINKLE KHANNA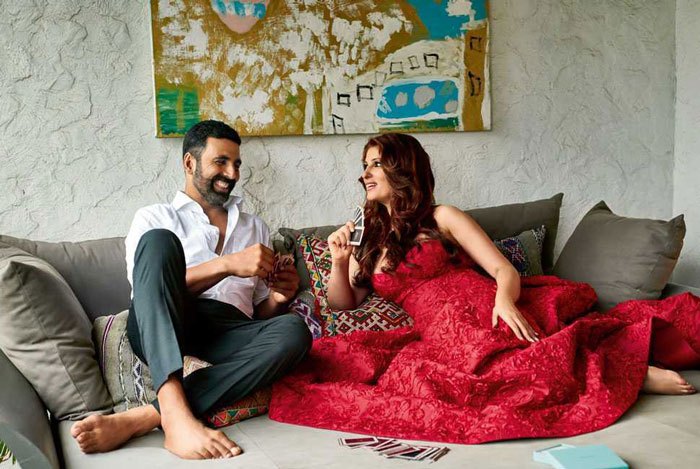 Yes, You read that RIGHT! the power couple who has been giving us major relationship goals will be there in Season 5 to talk about their life, career, and Bollywood.  Twinkle Khanna who keeps herself out of the limelight will be seen at Koffee with Karan Season 5 with hubby Akshay Kumar. KJ and Twinkle are childhood buddies and till date have been seen supporting each other.  We are all excited to hear what the couple has to discuss and who'll win KJ's popular segments of the show.
KATRINA KAIF WITH SIDHARTH MALHOTRA
Keeping in mind the bonding the Katrina has made with both Aditya Roy Kapoor (Fitoor) and Sidharth Malhotra (Baar Baar Dekho), it is reported that the actress will appear on Koffee with Karan Season 5 with one of these two.  We are sure that with kat's presence on the show, we will get to hear more stories about Kat's life, her relationship, her career and much more.
RANVEER SINGH & DEEPIKA PADUKONE
Ladiessss! Hold your breath because the Season 5 of KWK would be filled with hotness and hotness only. It is confirmed that the hottie Ranveer Singh will be among one of the celebrities to appear on season 5 of Koffee with Karan.  Earlier the Befikre star made it to Twitter to leave his fans a hint, he wrote : "What Fun & What Puns! After watching it you'll be like "What Buns!" haha love you KJ! Katch up for Koffee soon!". Our happiness knows no bounds when it comes to Ranveer, let's see how Ranveer makes the show entertaining with jokes and gossips.
 FAWAD KHAN
The Khoobsurat actor who has already made girls go crazy for him is also reported to appear on KWK season 5. Earlier it was reported that Fawad will be the first celebrity to appear on the show. Shocked ? yes, KJo went out of his set norms of inviting SRK to his first episode and chose Fawad to be the opener this time. unfortunately, due to tensions between India and Pakistan, it has still been not clear whether Fawad will appear on the show or not. let;s keep our fingers crossed that he is there sipping coffee with Karan.
SHAHID KAPOOR & MIRA RAJPUT
Shahid Kapoor has made appearance in all of the seasons of Koffee with Karan so far, now is the time that his fans and even some of the celebrities would want to see the couple coming on such a reality show to discuss about their life, their baby, Shahid as father, as an actor and much more. Only if it comes true, we will be able to witness the duo for the very first time to appear on television together.
SUNNY LEONE
Having Sunny Leone on Koffee with Karan would be something that the audience would definitely want. earlier Sunny Leone made an appearance on Koffee with Karan along with Ekta Kapoor.  Having her on the show would bring more masala and will be one hell of an entertaining episode. Hope she makes it to the show this time as well.
Ranbir Kapoor & Anushka Sharma
With Ae Dil hai Mushkil on the corner, all eyes are set on this duo to bring some fun, drama through this film. Anushka and Ranbir have been bonding well lately, and if the duo makes it to the Koffee with Karan this season, there will be entertainment, entertainment, and entertainment.  Anushka who loves talking and Ranbir who loves joking will surely take the episode to the next level.
Aishwarya Rai & Ranbir Kapoor's Hot & Sexy Pictures Will Leave You Shocked!
Save the date for the most popular celebrity show, let's see who gets to win KJo's Lie-O-Meter, Rapid fire, opinions and Koffee Quiz rounds.