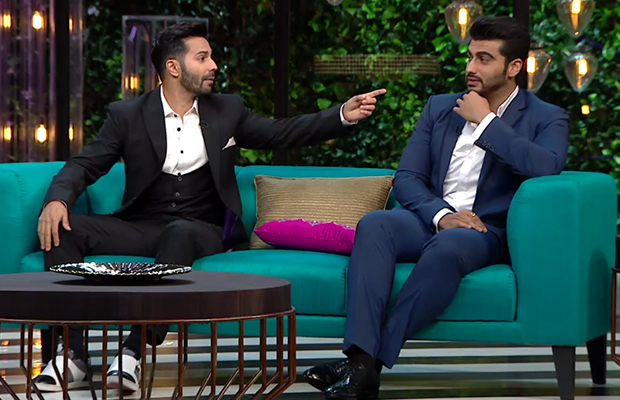 The latest episode of Koffee with Karan 2016 brought Bollywood's two hottest hunks, Arjun Kapoor and Varun Dhawan together and was by far the most hilarious episode of the talk show. The bromance between Varun and Arjun was visible as the filled the episode with laughter fits, hot gossips, mimicry and funny skits. The two- star kids Arjun Kapoor and Varun Dhawan will make you ROFL with their tales and revelations that you wouldn't have heard otherwise.
Both boys share a strong bond of friendship over these past few years and this episode was one of the proofs where both of them spoke about love, relationships, controversies, acting classes and much more.
If you have missed this exciting and the funniest episode, Don't worry! Here are 10 shocking revelations made by Arjun and Varun on Koffee with Karan 2016:
If you have missed this exciting and the funniest episode, Don't worry! we have gotten all the highlights to share it with you and make your day turned into an awesome one. here are 10 shocking revelations made by Arjun and Varun on Koffee with Karan 2016:
A Brother from Another Mother
When asked about the friendship bond that is growing between Arjun Kapoor and Varun Dhawan, both of them agreed to this fact. Initially, it was Varun who agreed, followed by Arjun who calls Varun a brother from another mother.
The Bigger Star of the Two
Where the bromance code is going stronger, KJo's questions come as a twist. When Varun was asked that whether he thinks that he is a bigger star than Arjun, his answer is affirmative and even mentions how Arjun knows about it and how he knows what Varun thinks.
Dating Alia Bhatt
Karan Johar knows exactly the pain points of the stars as he moves on to ask the question about dating Alia Bhatt. It was reported that Varun Dhawan and Arjun Kapoor had dated Alia Bhatt earlier. However, both of them denied the fact and mentioned that Alia is a very good friend as both of them had done back-to-back movies with her as well.
Alia Bhatt's Latest Boyfriend
If Alia is just a very good friend of them then who is the guy that Alia is dating? On asking this question, Arjun acts as if he doesn't know anything whereas Varun reveals about the guy in Alia's Life. The actress is currently dating a guy from Dubai- Ali (Dardarkar). Upon asking about Siddharth Malhotra and Ali Bhatt's relationship, both of them chose to avoid the subject.
Arjun Kapoor and Athiya Shetty dating?
Delving into Arjun Kapoor's love life, Karan Johar probes question about Arjun's relationship status and ask if he is single or not as recently rumours are doing the rounds that Arjun Kapoor and Athiya Shetty are dating each other. The Gunday actor mentioned that he is SINGLE- a sigh of relief for all his female fans. Arjun said he is currently more focused towards his acting career and doesn't want to go for any commitments at the moment
Varun Dhawan and his Lady Love
While Arjun was asked about his love life, how is it possible that Karan Johar can leave Varun without asking about his personal life and whether he is in a relationship with someone or not. Varun was asked about his longtime girlfriend Natasha Dalal to which he responded that she is a very close and dear friend. He even said that he doesn't want to disclose about his personal life as Natasha doesn't belong to industry and the actor himself isn't comfortable talking about his love life
Hooking up With Fans
The rapid fire round gave everyone laughter fits. Karan asked Varun about hooking up with a fan or has he ever done that to whihc Varun denied it but he left a major hint that an actor friend, who is a Kapoor, hooks up with his fans. No! it's not Arjun Kapoor if you are thinking of him, Varun mentioned apart from Arjun there is another Kapor who is famous for hooking up with his fans.
Who has a Bigger P**is?
Alert! From talking about love, life, relationship to something very personal, this episode had all the moments together. During a round, Arjun was asked that does he thinks he has a bigger p**is than Varun. Arjun being witty and hilarious, answered a YES, to which Varun disagreed and said Arjun clearly doesn't know what he is talking about.
Koffee With Karan 2016: Sania Mirza & Farah Khan Episode Confirmed!
Varun Dhawan- The Harmful Friend
The episode was filled with revelations about so many things. Karan asked Arjun about how good of a friend Varun is to which Arjun replies that Varun is a very HARMFUL friend as he never thinks before saying and sometimes tell things that weren't supposed to be said.
Varun Dhawan is an Attention Seeker
Spilling the beans about Arjun and Varun's early days at acting classes, Arjun mentioned how Varun used to be an attention seeker and was always ready to remove his shirt. Varun accepts this fact and even tells about himself that how he was a nudist as a kid and would roam around his house in only his underwear.
While there were many other moments where both of them shared some crazy memories and even performed two situations given by Karan Johar where they had to enact provided that instructions can be changed at any point in time. Koffee with Karan Season 5 is surely a program that has gained a lot of momentum and with celebrities like Varun and Arjun, the show is filled with laughter fits that are hard to control.
Stay tuned with Media Gupshup to know more stories coming up on the sets of Koffee with Karan