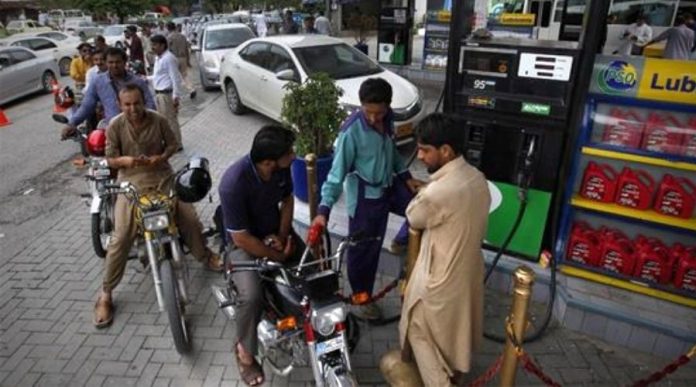 Petrol and High Speed Diesel (HS) prices in Pakistan are expected to hike once again from 1st August as the Ministry of Petroleum has suggested another raise in prices by 7-10 Rs per liter.
Detailed paper work regarding the raise in price has been sent to the Finance Ministry, according to the details, Petroleum Ministry suggested an increase of Rs7/litre in petrol price, Rs9.5/liter in diesel , Rs6.21/liter in light diesel oil (LDO) and Rs6/liter in kerosene price.
The final decision on this case will be made by Prime Minister Imran Khan himself, if the suggestion of price hike made by the Ministry of Petroleum is approved by the government, the new price of petrol will shift from Rs 100.1 to Rs107.1/litre.
Furthermore, price of diesel will be Rs110.96/litre, which is currently Rs101.46. The price for LDO will hike from current Rs55.98 to Rs62.19/litre and kerosene oil price will raise to Rs62.06 from its current Rs59.06/litre price.
In June, the government elevated the price of petroleum products by 66%, in which the price of petrol was increased by Rs25.58/litre, diesel Rs21.31/litre, kerosene by Rs23.50/litre and LDO by Rs17.84/litre.
Currently, the government is  charging Rs 30/litre petroleum tax (PL) on petrol and diesel levy, on the other hand, Rs6/litre on kerosene and Rs3/litre tax on LDO.
Moreover, government is also charging 17% general sales tax (GST) on all petroleum products.
Except the 17% GST, the government has almost increased the rate of petroleum levy on HSD and petrol upto four times, from Rs 8/liter to Rs 30/litre in January last year. However, the levy on kerosene and LDO remained the same at Rs6 and Rs3 per litre respectively.