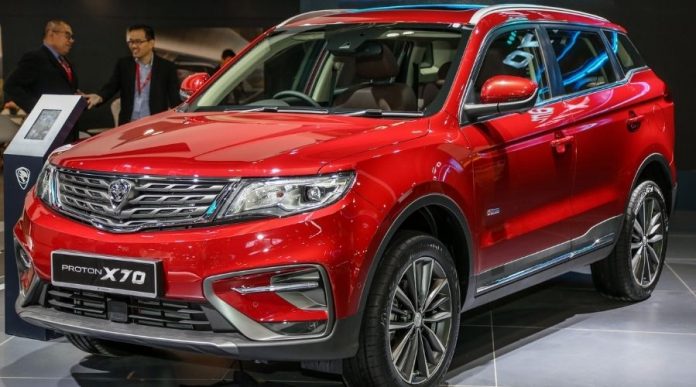 With SUV's having a major launch fever in Pakistan, another to enter the market is the latest lineup by Proton, in partnership with The Al-Haj group. The launch of the X70 crossover SUV and Saga sedan is reportedly taking place in Pakistan later this year.
The company will switch to local assembly by June 2021, and two vehicles by the year end will be launched.
According to the official, the SUV crossover X70 will compete with Korean companies Hyundai and Kia by offering the car "with more features and lesser price".
X70, is a compact crossover SUV that is powered by a 1.8 liter turbocharged 4-cylinder petrol engine that makes 182 horsepower, 285 newton/meters of torque, and comes mated to a 6-speed automatic or a 7-speed DCT gearbox.
Proton has received a green-field status under the Auto Development Policy 2016-21, under which Proton will be paying less duties compared to firms already operating in Pakistan such as Toyota, Honda and Suzuki. Other green-field status companies include Kia, Hyundai, and Changan.
The said vehicles are actually Chinese manufacturer, Geely's vehicles directly imported and licensed by Proton for the Malaysian market.
The other car that Proton is set to launch is the Saga Sedan which recently entered its 4th generation. It is mated to a 5-speed manual or a 4-speed CVT automatic transmission. Features a 1.3 liter 4-cylinder petrol engine that makes 94 horsepower, 120 newton/meters of torque.
Proton Saga 1300cc Specifications, Features and Price in Pakistan
Price:
As Proton X70 comes with tons of cool and exciting new features like no other car in Pakistan, it is to be expected that the upcoming proton will be priced around 4.4 Million while on the other hand, the superior version of the car is expected to be near 5.6 Million PKR. 
Proton will feature four different variants including Standard, Executive FWD, Executive AWD and Premium. I personally think that this machine can give a really tough time to the latest cars in Pakistan such as Kia Sportage and upcoming Hyundai Tucson.