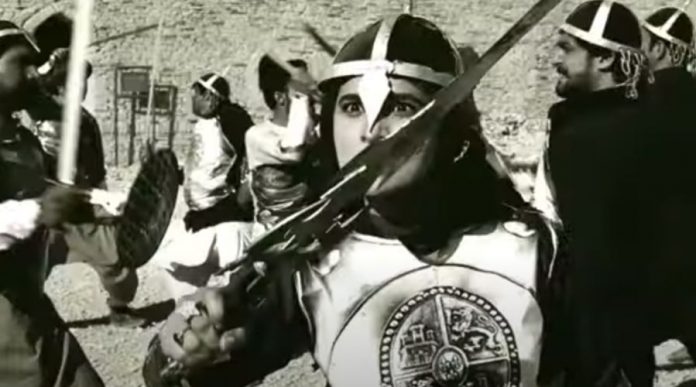 The fever of "Ghazi: Ertugrul" is running high as Pakistan releases the trailer for its very first Ertugrul inspired drama serial "Raj Rani".
The famous Sindhi Channel "KTN" is coming up with their new drama serial 'Raj Rani', based on local history, and people called it a copy Drilis: Ertugrul.
The series has been heavily influenced by the Turkish historic Epic as it is based on the centuries old chronicles of the sub-continent. The trailer shows heavy sword fighting, armor plates and a backdrop that features Mughal style battle fort.
The 30-second teaser has not revealed much but a scene on the battle field and what is interesting to see is that the battle also features female warriors, which is a rare sight to witness on Pakistani television screens.
Twitter was quick to spot the production and started talking about it:
Meanwhile #ErtugrulGhazi Sindhi version soon on KTN Entertainment. 😀 pic.twitter.com/z0gQWZ80AM

— Zia Ur Rehman (@zalmayzia) July 18, 2020
It is a matter of happiness that Sindhis are making such dramas because the terrorists who are always shown on TV are terrorists in real Life Not Sindhis are peace loving and hospitable.

Proud be a Sindhi🍁

— Alee Amir (@AleeAmir3) July 18, 2020
And what we all really crave for is a Memon version of Ertugrul

— TerracottaWarrior (@SyedKhawarmehdi) July 18, 2020
RIP #ErtugrulGhazi. We are ashamed what Pakistani did to #Turkey production.

— Jawad Yousafzai (@JawadYusufxai) July 18, 2020
Some celebrities also joined the bandwidth and appreciated Pakistan's efforts to bring such a project on the table.
Amongst the biggest fans of the series is our very own Prime Minister Imran Khan who not only recommended the popular serial but lovingly called it the 'Turkish Game of Thrones'.
The story of the historic drama is about the life and adventures of Ertugrul, who is considered to be the father of the Ottoman Empire. It was through his quest against Gengis Khan and Templar Crusaders, banded the Muslim dynasties of the 12th Century together.