For the longest time Pakistani people on the internet have been the biggest bullies to various celebrities and famous figures and it continues today as well as UrwaHocane posts a snap in a "revealing" outfit.
The image is of her flaunting a pink and white lehenga choli with a revealing back and also front. The pictures were taken when Urwa and her husband, Farhan Saeed, were invited to a close friend's wedding, which was hosted by Adnan Qazi.
Urwa Hocane donned the pastel lehenga choli in sun-kissed photos looking gorgeous, but the moral police rather than politely addressing that the images were maybe a "tad much", started a counterproductive array of negative and abusive comments.
People started directing their absolute disdain for the attire and the "confidence" that the actress had to put it on even:
Some people tried to take the high road and tell Urwa to be responsible with the content she posts.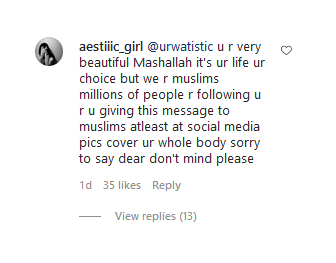 Some went for the kill:
But die-hard fans were all love in the comments section for the starlet.
The take away from this is that even if people find things on the internet that they do not agree with, they have to have a positive and productive approach rather than trashing another human being on a global platform, what good will that even do, spread more hate?
Previously EsraBilgic of "Ghazi: Ertugrul", who is not even a Pakistani woman, was trashed with abusive language and much more.