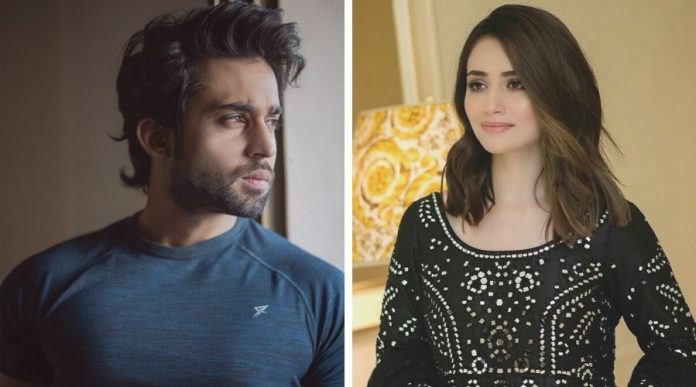 Giving one hit after another due to his performance, Bilal Abbas at the moment has no competition that can match his screen presence coupled with stellar acting skill. And now he has been paired up with the mega talented Sana Javed, who has proven with her recent project "Ruswai" that she is a force to be reckoned with when it comes to ace acting performances.
Both the stars will be starring together in an upcoming project "Dunk" that is to be produced by the Production house of Fahad Mustafa.
The audiences are excited to witness the two actors together on-screen for the first time and see how their chemistry works together.
Presented by Fahad Mustafa and Dr. Ali Kazmi, the drama serial is the Big Bang Entertainment Production and written by Moshin Ali.
Sana Javed recently posted what looks like first draft of the script.
Sana Javed and Bilal Abbas khan posted a picture on their Instagram accounts, giving a sneak peak from the set of Dunk.
The project is described to be a mysterious and thrilling one as it is a murder mystery like drama serial Cheekh.
Dunk story seems to revolve around two main couples Amal (Sana Javed), Haider (Bilal Abbas), and Azekah Daniel, Fahad Sheikh.
Bilal revealed a bit about his new project Dunk, saying:
"The genre is a modern mystery thriller but the script is very different from Cheekh and very good. I'm very excited to work with Sana for the very first time. She's phenomenal, hardworking and very talented."
"I'm positive the project will do as well as my other projects, it's going to be shot on a huge magnitude and promoted on a huge scale so I'm really hoping it will be really, really, really big."– Bilal added
Supporting cast includes Fahad Sheikh, Azekah Daniel, Amina Sheikh and Nouman Ejaz. Daniel has also earlier worked with Mehmood on 'Cheekh'.
https://i0.wp.com/reviewit.com.pk/wp-content/uploads/2020/07/1594467881_842_Dunk-Drama-Cast-Story-Timing-and-OST.jpg?resize=554%2C725&ssl=1
Team 'Dunk' recently began to shoot amid stringent hygiene and safety protocols.