Pakistani actress Hania Amir is the one to look out for in the future. She is an amazing emerging actress with immense talent at her disposal.
Hania Amir has become one of the leading faces of the Pakistan Entertainment Industry after numerous hit dramas and movies.
She received a lot of praise for her debut movie from the critics. She has already attained so much fame in a very short amount of time.
Here are some of her lesser-known facts:
1. SHE WAS ONLY 19 WHEN SHE STARTED HER ACTING CARRER.
Hania Amir started out very young in the entertainment industry with Janaan being her debut film. Soon because of her quirky looks and supreme acting skills, she started scoring big serials on big channels. She grabbed attention of the masses with her confident performance and left an attention more than a supporting character.
Yeah, you read right! She is just 19. Hania was born in 1997.She is 5 feet 4 inch and weighs about 54 kg.
2. HANIA MADE HER FILM DEBUT WITH MOVIE "JANAAN".
Hania Amir made her debut alongside her cousin Armeena Khan in the super hit movie "Janaan". Amir made several dubsmashs and uploaded them on her social media account, which got the attention of the producer Imran Kazmi, who later cast her in a supporting role in the blockbuster romantic comedy Janaan (2016)–a role which earned her a Lux Style Award for Best Supporting Actress nomination.
She became an internet sensation after she made her debut in the movie "Janaan"
3. BEFORE ACTING HANIA WAS FASHION DESIGNER.
Before taking an interest in acting, Amir was studying Fashion Designing at the Foundation for Advancement of Science and Technology (FAST-NUCES). Hania Amir loves to wear the clothes she designs herself.
She came up as a polished Fashion Designer and has always designed beautiful and trendy dresses.
4. HANIA IS THE COUSIN OF ACTRESS ARMEENA KHAN.
She is as beautiful as her cousin actress Armeena Khan who was the lead in movie "Janaan".
5. HER ZODIAC SIGN IS ARIES.
Always extremely blunt and confident about her choices is what truly defines the Pisces in Hania Amir. From the choices of her drama characters to the content available on her Instagram, Hania Amir is ready for any head-on challenge.

6. SHE IS SINGLE BUT RUMOURED TO HAVE A BEAU.
Hania Amir on page is single but recently has been rumored to have a new beau, the famed singer Asim Azhar. From pictures on Instagram to being spotted together by the Paparazzi, there is definitely something very interesting brewing between the two mega talented celebrities.
7. HANIA LOVES DUBSMASHING AND SOCIAL INTERACTION.
Before being discovered as a talented actor, Hania Amir had a huge follower as a dubsmasher. She was later discovered and Janaan team definitely saw the potential in Hania Amir after visiting her profile and witnessing the entertaining dubsmash.
She keeps posting her pictures on social media accounts as well as funny videos. She is interactive with the followers.
8. HER FAVOURITE FOOD IS CHINESE.
Hania Amir is a food lover as is seen on her Instagram, she not only shares delectable food pictures on Instagram but also shares recipes that you can enjoy during quarantine.
9. SHE IS THE MAIN LEAD IN "NA MALOOM AFRAAD 2"
Though she regrets working on the project, but Hania was part of the much awaited Na Maloom Afraad 2. Her role was of the quirky, chirpy girl who always gets her ways but Hania Amir later realized that her screen presence and character were not impactful enough.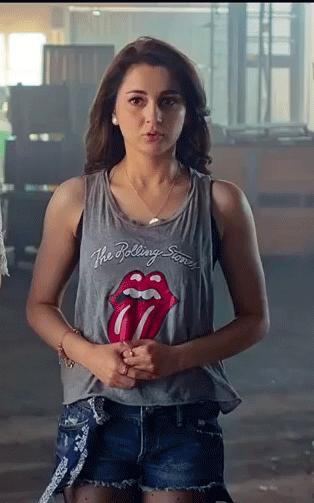 10. SHE IS A ISLAMABADI.
Yes that's true, Hania Amir is an Islamabadi, who was born and raised in the beautiful capital. Locally she gained much fame through her social media handles early on. While studying at the Foundation for Advancement of Science and Technology, Amir made several TikToks and uploaded them on her social media account.
Hania Amir is sure to stay for a long time in the industry and we are all set to see great things from the young star. These days yet another drama of hers is making strides due to her stellar performance, Dilruba, the serial is one that gets millions of views and is highly trending and that people tune in to every week.