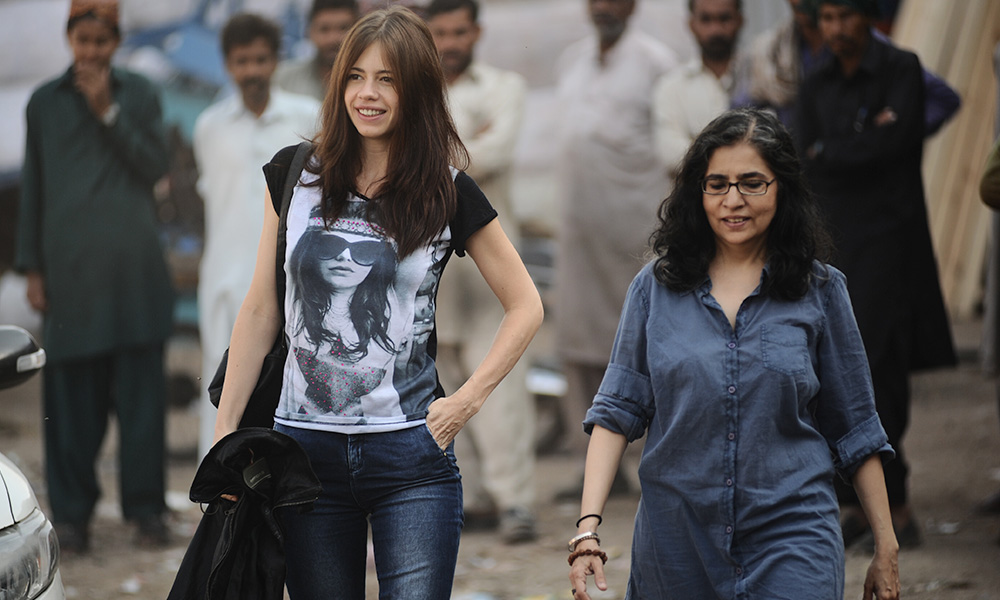 Azmaish – Trials of Life is a documentary set in the sub-continent and is of particular relevance to those who live in India and Pakistan. It has a universal relevance as it draws us all in a debate about religious violence – both emotional and physical. Azmaish is for all those who want a just society, all those who value freedom of choice, all those who are interested in a violence free today and tomorrow.
The documentary shows the journey of Indian actor, Kalki Koechlin and Pakistani Director, Sabiha Sumar, traveling to both the countries to understand why people in their countries are turning to religious extremism for answers.
Films have invariably sensationalized the Pakistan-India divide, adding spice with ominous insinuations of unresolvable contradictions between the two nuclear-powered neighbors. But is that the way the majority of people in both countries view the interactions between the two? In this documentary, we aggressively question the media's mystification, give voice to the silent majority and take bold steps towards peace between the two countries.
Sabiha Sumar is an independent filmmaker from Pakistan. Born in Karachi, she studied Filmmaking and Political Science in New York. She has earned acclaims for her films which mostly deal with political and social issues such as the effects of religious fundamentalism on society and especially on women.
Her first feature film, Khamosh Pani, played in film festivals around the world It won the Golden Leopard Award at the Locarno International Film Festival in 2003.
Sabiha's first documentary, Who Will Cast The First Stone, about three women in prison in Pakistan under Islamic law won the Golden Gate Award at the San Francisco Film Festival in 1998.
She also has her own production company called Vidhi Films which was founded in 1992.
About the Kalki Koechlin:
Kalki Koechlin is an Indian actress and writer of French descent, who predominantly works in Bollywood. Apart from acting in films, she is also a regular presence in theater productions in India. Koechlin is the recipient of a National Film Award, a Filmfare Award,  and two Screen Awards.
She made her Bollywood debut in Dev D, followed by a number of other movies like Shaitan, Margarita with a straw, The Girl in Yellow Boots, Yeh Jawaani Hai Deewani, Mantra and many more. Koechlin is described as a style icon by the Indian media and has been dubbed as the "queen of experimental fashion".
Koechlin is a celebrity endorser and has been associated with several brands and services, including Coca-Cola, Olay, Vogue, Micromax, Titan, Grey Goose's Style du jour and AOC International.