Koffee with Karan Season 5's most awaited episode with Ranveer Singh and Ranbir Kapoor lived up to the expectation. For those who perhaps live in the rocks, the episode was a big deal as Ranbir Kapoor and Ranveer Singh are considered to be foes in real and professional lives.
Both superstars dated Deepika Padukone in their lives and are usually considered rivals. For those who missed the episode, here are the 10 most amazing revelations that happened on the show.
1. Ranbir and Ranveer both raided Karan's shoes at the start of the show. However, they then threatened to throw him his own shoes at him if he asks too much about their personal lives.
2. We all know the Ranveer is a multi-talented actor. He can just do it all. Although comedy is what he does best but his romantic instincts are amazing as well. Ranveer tried to tease off Karan on his own show as he was showing his new shoes to him. Who'd love to see Ranveer and Ranbir pair up in Dostana 2?
3. Ranveer stayed up pretty quiet when it was his part to speak about his relationship with Deepika. Nevertheless, when Ranbir made it clear that they broke up 7-8 years ago and have already moved on. In fact, at one point, Ranbir even said that Deepika and Ranveer should have awesome babies.
4. Ranveer played along Karan's flirting on him. He responded with the most insane answers! And that too without any script!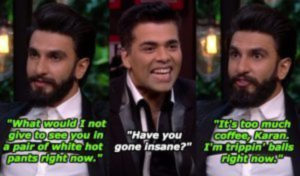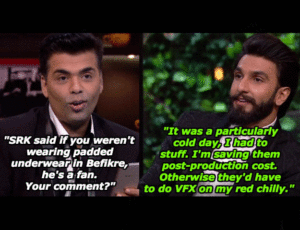 5. Ranbir said currently he is single, but he hates it. The star surprised us by saying he is single and lonely and the concept of Space was more or less lame. "If you want space, go to NASA", he said. Wondering SRK would come and say Ranbir you gotta have better jokes.
6. Seems like, Ranbir is surely a firm believer that porn messes up life. According to him, it's dark and twisted, and not healthy at all. To which Ranveer said you're watching the wrong kind of porn. After this when Ranveer asked him when the last time he watched porn was, he said 'yesterday'.
7. Arjun Kapoor dropped by to play a game wherein Ranbir and Ranveer were to respond to Karan's yes/no questions by kissing him on Arjun's cheeks.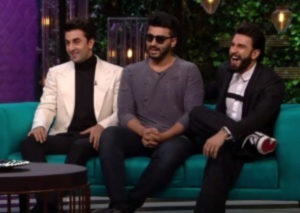 8. Ranveer lost as his beard is rough and he's harsher according to Arjun Kapoor.
9. Ranveer took a dig at Ranbir's soft point – Katrina Kaif. Surprisingly, Ranbir Kapoor laughed it out.
10. However, it ended with the two crazies dancing. But clearly, the Punjabi puttar won by raging a dance on Chikni Chambeli.