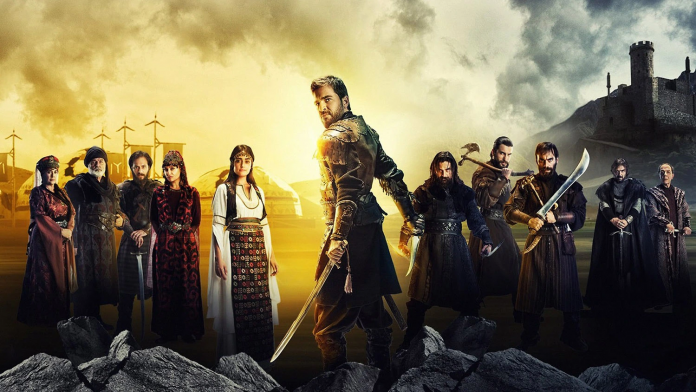 If you are a Pakistani, you probably would have watched the entire Turkish Dirilis Ertugrul series. The series was a huge hit not just in Turkey but in Pakistan as well. Well, it should have been, the series was filled with almost everything, action, history, thriller, suspense, politics, romance, emotion, you just name it. Every Pakistani was obsessed with the whole story and it's cast. The story revolved around the 13th-century Turkish warrior and the father of the Ottoman empire's founder, Osman, Ertugrul Ghazi. Ertugrul and his tribe, Kayi's were the ones who laid the foundation of the great Ottoman empire. The series continued for five seasons in which Ertugral had to face numerous difficulties for his family and the tribe.
After witnessing the immense love for the series, The prime minister of Pakistan decided to broadcast the series on Pakistan's national TV channel 'PTV' in Urdu so that everyone can watch this amazing Turkish series. So, if you are also an Ertugrul Series fan and want to watch more Turkish series like Ertugrul, then you have come to the right place. We have made a list of the 5 best Turkish series that you can watch as an alternative to Dirilis Ertugrul.
Mehmetçik Kut'ül Amare:
The series shows Mehmet and his companions in the Ottoman state, who have a great love for their country and are getting prepared for the First World War. The only thing they care about is the freedom and restoration of their land and for that, they will face any struggle and hardships that comes their way.
Rise Of Empires: Ottoman
Rise of Empires: Ottoman is a famous Netflix series directed by Emre Şahin. The series revolves around the Ottoman sultan Mehmed II and his epic wars to take the Byzantine, capital of Constantinople. The series is filled with action, drama and emotion.
Kurulus: Osman
Kurulus Osman is the sequel of Dirilis Ertugrul. The story is based on the founder of the Ottoman Empire, Osman, who is the third son of Ertugrul. The series shows the continuous struggle of Osman to found and maintain the Ottoman Empire by defeating the Mongols, Byzantine Empires, and internal enemies.
Payitaht: Abdulhamid
The series portrays the reign of the 34th Ottoman emperor, Sultan, Abdul Hamid II, who was also the last sultan to exert effective control over the state. The series shows the life of people and the world at that time and the struggle that Sultan Hamid had to face against the inner state enemies and the British states.
Yunus Emre: Askin Yolculugu
Yunus Emre is another famous Turkish historical and biographical Tv series created by Mehmet Bozdağ. The story of the series revolves around Yunus Emre, who is 13th century Sufi poet. Emre is highly influenced by the Anatolian culture and sets out on a journey around the Ottoman empire to become a great Sufi.