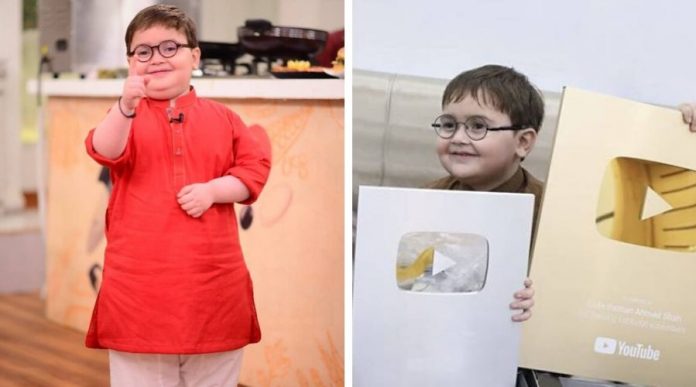 YouTube is a well-liked social media platform for talented content creators to make an identity for themselves. They give out their all, from making funny videos to interesting and unique content, to earn public acknowledgment and earn the fancy gold or silver YouTube Play button. But if you are a cute little kid who can talk rudely to adults, like Ahmed Shah, then YouTube will just award you with both the gold and silver YouTube button. (sarcasm intended).
Pakistan's youngest internet sensation, Ahmed shah, also known as "Pathan Ka Bacha" has become the Youngest YouTuber in Pakistan to reach 1.14M Subscribers and earned not just a Silver YouTube button but the gold button as well, as stated on his recent Instagram post.
This young boy is just 5 years old and at this young age he had already surpassed many talented and enthusiast YouTube content creators all over the world.
He became instantly famous after his short video in which the 5-year-old is telling off his school teacher got viral all over the internet. Ahmad Shah became the talk of the town after count-less memes created, using his video on almost every social media platform.
Not just that, the preschool celebrity got so popular that many talk shows invited him to their show for his interview. He appeared in Nida Yasir's Morning show and he was frequently seen in Fahad Mustafa's famous Game show "Jeeto Pakistan" which made Ahmed Shah a full-fledged celebrity of the Pakistani Showbiz industry.
Mention your thoughts about Ahmad Shah's success and achievements in the comment section below: