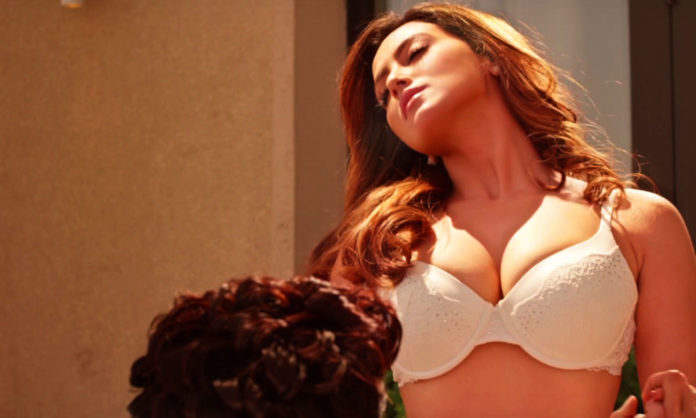 The trailer of the erotic thriller Wajah Tum Ho is out and is  already taking the internet by storm. From the makers of Hate Story 2 and 3, we can expect that the movie will revolve around a twisting plot with some steamy scenes.
The film stars former Bigg Boss contestant  Sana Khan, Sharman Joshi, Gurmeet  Choudhry and Rajniesh Duggall in the leading roles.  Hold On! Before you proceed with trailer, let us tell you how HOT the trailer looks like with Sana Khan getting intimate with Gurmeet.
The trailer starts with the love chemistry between Sana and Gurmeet, both of them play the role of Lawyers who are opposite each other fighting for a case. The next entry in line is of Rajniesh, who is a business tycoon and has been charged of staging a live murder on his TC show. Sana Khan will be the one who will be defending
Sana Khan will be the one who will be defending Rajniesh and there comes all the drama of lip locking and getting cozy with Gurmeet.
Murder, Lawyers, case;  Police has to be there at any cost for which the film has Sharman Joshi who will be playing the role of a cop who is keen to solve this mysterious case.
Sana Khan who has seen playing supporting roles will be seen playing a leading role and that too with intimate scenes. This is merely an attention-grabbing trick for the audience. The film's plot revolves around a case and the mystery man who is plotting the murder.
Directed by  Vishal Pandya and produced by T-Series, the film is expected to release on 2nd December.
Check out the trailer and let us know in the comments below: