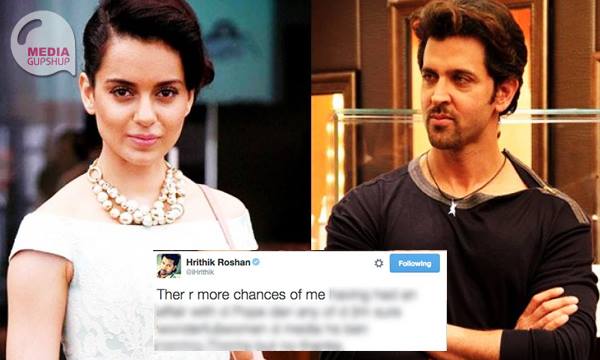 Just after the release of Hrithik Roshan's upcoming movie trailer "Kaabil", Kangana Ranaut angrily out-bursts on a comment given by a member of Roshan Family.
Kangana and Hrithik's word-spat goes way back to the time of Krrish 3 when the two actors were rumored to be getting 'too' personal. Hrithik's divorce did little to dismiss the rumor as Hrithik was spotted numerous times on outings with Kangana. Things took unexpected turn when Hrithik publicly started denouncing any relationship rumor with Kangana. Ms. ranaut did not take light of this issue and reacted a bit more then what was required. The two even came close to draging each other in the court of law.
Let's see what Kagana had to say this time. Check it out!
Incase you are wondering: here is what Rakesh Roshan had said earlier about Kangana Ranaut, which instigated this rather emotional response from Ms. Ranaut.
In an interview earlier, Papa Roshan gave a few remarks about the on going controversy between the Kaaya- Krish duo and later when asked about it Kangana lashed out not only on the  journalist but also brutally commented that a 43 year old son shouldn't need his father's protection, he should be 'a man enough to speak for himself.'
Is she questioning Krish's Mardaangi?
Talking about that did you checkout how Hot Hrithik looks in his boy-next-door cum daredevil avatar. If you haven't then watch it now;
Kaabil Trailer: Hrithik & Yami Gautam Blind? Daredevil Rip-off?
But then we all know, What's fame without a few controversies! This could either be a planned move for Kaabil's promotion or this could be pure rage struck on at a wrong time.
Don't miss: Kangana's hottest photoshoot till date!
Kangana Ranaut Goes Super Sexy for Cosmpolitan Magazines Cover Photo
Tell us what you think of Kangana's response in the comment section below!